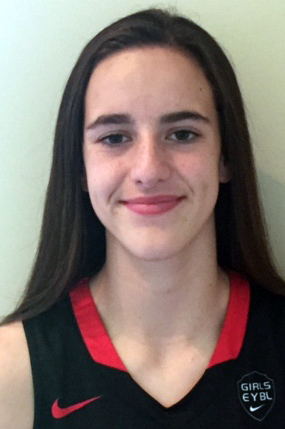 Caitlin Clark
Point Guard
CLASS: 2020
West Des Moines, IA

Hometown

Dowling Catholic

High School
1

Overall Rank

1

Position Rank
Considering
No schools available.
ESPN Player Evaluations
USA Trials-May 2017: Skilled back court performer, fundamental floor-leader with offensive fire power; manufactures, delivers in mid-range game; drives, draws contact and delivers; executes in half-court game; an elite guard in the class of 2020. (Olson)

Boo Williams Invitational-April 2017: Fundamental game manager with a scoring punch in the back court; smooth delivery on jumper with range at the arc; executes in half-court sets, penetrates under control and distributes; next level performer. (Olson)

AIA Midwest Classic-June 2016: Fundamental floor-leader executes in half-court game; pushes tempo under control, distributes; quick 1st-step attack breaks down defender, elevates on jumper with smooth stroke to the arc; among the elite guards in the class of 2020. (Olson)
Notes
member USA U16 National Team in 2017.

Des Moines Register Honorable-Mention All-Iowa in 2017.

IGCA 2nd-team 5A All-State in 2017.