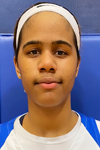 Aalyah Del Rosario
Post
CLASS: 2023
Trenton, NJ

Hometown

Trenton Central

High School
—

Overall Rank

—

Position Rank
Considering
No schools available.
ESPN Player Evaluations
NJISAA Tournament-March 2020: Efficient low-post performer consistently finishes plays in traffic; displays superb hands, pounds the glass and scores vs. contact; defends the paint, alters shots and runs the floor like a guard; an elite prospect in the class of 2020. (Olson)

Blue Star-January 2020: Athletic low-post prospect with off-the-charts potential; emerging interior game, superb footwork in the paint delivers in traffic, finishes plays over the defense; quick, explosive in the paint, shot blocker, alters shots; runs the floor in transition and catches in traffic; an impact prospect in the class of 2023. (Olson)

NYG Hoops-November 2019: Emerging low-post performer cleans the glass and initiates the fast break; superb mobility in uptempo game; soft touch in the paint, delivers in traffic with back-to-basket game. (Olson)

New Years Resolution-January 2018: Low-post prospect with developing offensive arsenal; roams the lane, defends, blocks shots; rebounds and scores in traffic; possibilities. (Olson)
Notes
Notes are not available.