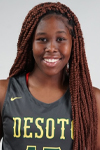 Michayla Gatewood
Guard
CLASS: 2022
DeSoto, TX

Hometown

DeSoto

High School
—

Overall Rank

4

Position Rank
Considering
No schools available.
ESPN Player Evaluations
Texas UIL State Tourney-March 2019: Athletic lead-guard with a scoring punch in the back court; handles in transition game, weaves through the defense and knocks down jumpers to the arc; flourishes in uptempo game. (Olson)

Yellow Rose of Texas-March 2018: Athletic floor general with combo-game; aggressive in uptempo game, pressures the defense and distributes; mid-range game creator that moves to the arc. (Olson)
Notes
Notes are not available.