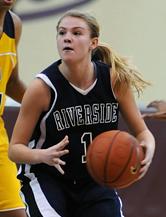 Mercedes Wetmore
Point Guard
CLASS: 2010
Lake Tapps, WA

Hometown

Auburn-Riverside

High School
—

Overall Rank

30

Position Rank
ESPN Player Evaluations
AZ Elite Spring Classic-April 09: The Spokane Stars added a new piece to its backcourt this year, Mercedes Wetmore of Lake Tapps, Wash. She teams up with sophomore sensation Jordan Loera. Both bring different things to the court because Wetmore is more of a scoring focused, dribble-penetration type, while Loera brings more size and passing touch to the floor. Wetmore can score in bunches when she gets on a role, no matter who is guarding her. What the shaky 5-8 guard needs to focus on is impacting the game even when she's not scoring the ball, while Loera needs to score the ball a little more consistently against top-flight defenders.

March 09: For Auburn Riverside's Mercedes Wetmore, the biggest change from last year to this year is her confidence. Some conclude that she's cocky, but to be a top-notch lead guard you have to have a certain swagger. In terms of basketball skills, she has improved her perimeter shooting greatly. While not a dead-eye shooter, she is capable of keeping the defense honest, which allows her to play to her real strength -- dribble penetration. She's a player that can heat up and score in clusters. As she develops, she'll need to find a way to score consistently, when her shot isn't falling and that comes at the free throw line for most.
Summer 08: Mercedes Wetmore, the shifty point guard from Lake Tapps, Wash., had an up and down tourney, but when she turned it on showed she can play at an incredibly high level. Her size doesn't allow her to overpower defenders, but her creative ability and change of direction quickness allow her to create scoring opportunities. She is capable of going on scoring runs by herself and the real test for her will be to balance creating for herself and for her teammates when she gets in those zones. The Auburn Riverside lead guard is incredibly gifted with the ball and shines even under heavy ball pressure.

Nike Skills May 08: Mercedes Wetmore did great with the various ballhandling drills and pushed beyond the basic stuff in the drill work. She found out how physical and strong the players are on the big stage, and she'll have to continue to learn how her strengths play against better players. She picked up the floater they taught quickly. It was also evident that she spent a great deal of time on a mid-range jumper off the dribble this past year. She took the jump-stop footwork and applied it correctly to this shot as well.
Notes
Club Team: Auburn Riverside

Gatorade State Player of the Year, 09-10.