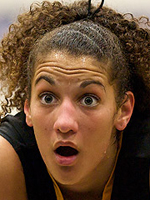 Erica Payne
Forward
CLASS: 2011
Concord, CA

Hometown

Carondelet

High School
78

Overall Rank

22

Position Rank
ESPN Player Evaluations
Nike TOC-Dec. 10: Has all the size, mobility and athleticism you could look for. Still does most of her work inside and around the basket but is very effective. Question at the next level will be her versatility and ability to work from the high post or on the perimeter. Her pull up is serving her well out to the 10 foot range. Constantly active at both ends of the floor and aggressive defensively. (Lewis)

USAB trials-June '10: Payne also worked out with the U18 group and the 6-2 forward from Danville, Calif., had her hands full. Her agility and athleticism are obvious and there aren't many who'll work much harder. On the other hand, the physical play and aggressive nature of her competitors seemed to catch her off guard at times. She can get out and run the floor with the perimeter players and at times found ways to slash into the paint, but traffic and helpside rotations forced her to give up the ball or struggle to get her looks. Her perimeter shot is above her head with a forward motion but seems to find its way on a consistent basis. She's still one of those players defining herself and what position she'll find herself playing at the next level. Payne's build at this point might still be described as gangly which still gives hope that the future will see her add strength and develop a physical component to her game. There's a critical summer in front of her.

EBX Showcase-Oct. '09: In this go-go, instant-analysis era, there sometimes is a tendency to not thoroughly consider how a player might translate from one level or position to another. It takes a little imagination to appreciate the likes of Erica Payne from Danville, Calif. Out of necessity, she is minding the low post for her Carondelet High School and East Bay Xplosion teams, and, at a wiry 6-2, she could appear to be under-tooled for the task. But Payne overcomes any size deficiencies with quickness and an incredible motor, and both qualities will serve her well on the next level at the forward spot. Moreover, she is bent on developing more of a perimeter game, unveiling here a longer-distance shot that still is more of a stationary launch, albeit one with a nice, high release point,which is a nice attribute for an inside player.

Spring Fling-May '09: To our way of thinking, Erica Payne of Concord, Calif., is one of the more glaring omissions from the USA Basketball U16 invite list. Who couldn't use a tireless, athletic 6-1 forward who out-quicks and outworks anyone put in front of her? Payne has the body type and ballhandling skills of a wing, but is needed on the boxes by Carondelet High School and the East Bay Xplosion, so she plays a bit out of position, but enthusiastically in the post. With some additional, upper-body bulk and strength, she could be a running, ballhandling forward on the next level or, with some reps on her jumper, a wing who will rebound her position well and can be dropped in the low post on mismatches.

Deep South Classic-April '09: A bundle of energy with good size, Payne will mix it up against bigger players, outwork them on the glass, hit the deck, whatever is needed to come up with the ball and even transport it upcourt, if necessary. Until she develops more consistent range, she is a 4 who is more effective posting high or even near the short corners, where she can spin or face up, put the ball on the floor one or two times and leave bigger defenders in her wake. She is good with blocks coming from helpside and will get into opponents. Though a younger player, Payne shows an inclination to take responsibility when the stakes are raised.
Notes
Club Team: East Bay Xplosion-Black