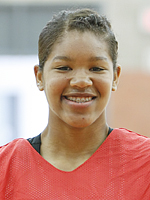 Deanna Calhoun
Forward
CLASS: 2011
Albany, CA

Hometown

Albany

High School
—

Overall Rank

34

Position Rank
ESPN Player Evaluations
Boo Williams-April 10: Much like Boyd, Calhoun had the opportunity to step up and help even more with Culberson out. She did just that. Her rebounding and defense made definite impacts and being in the pool with the Tennessee Flight, DFW Elite, and Michigan Crossover, she was lining up against athletic and long opposition at every turn. She has a very strong lower body and used it by initiating contact, be it in the paint to score, to box out, or to hold her ground defensively. She has long been an intriguing prospect with upside and she's showing the development to live up to that potential. If she can continue to add to her back-to-the-basket repertoire she will a solid interior player at the next level. (Hansen)

Strong, physical and wide framed post. Plays aggressive down low and seems to enjoy it. Has good body control and even comes through with some two handed tips. Needs to be able to create her own looks more effectively but can finish the ones she gets. Has progressed and should have her choices of options.

Spring 08: Deanna Calhoun might be closer to 6-1 than the listed 6-3, but she's strong, agile and motivated in the paint. She also has tremendous hands and helped the Ballaz dominate inside.
Notes
Club Team: Cal Ballaz