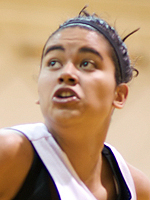 Justine Hartman
Post
CLASS: 2011
Brea, CA

Hometown

Brea Olinda

High School
7

Overall Rank

2

Position Rank
ESPN Player Evaluations
USA U16 Trials-May 09: Justine Hartman of Brea, Calif., joins the trio from Mater Dei to give the national team four players from Orange County. She was one of the strongest, physically, of the post crop at the trials. She could actually play stronger, if she posted with her hips lower forming a more solid base. What is great about her game offensively is she takes her time, reads the floor after she catches the ball on the block and makes the right play for the situation more often then not. She finished better than any of the posts here and mixed in some mid-range scoring as well. Defensively, she's going to have to push herself against more athletic players with better footwork fundamentals in the international game.

Boo Williams-April 09: A very effective scorer from the high post, rebounds the ball, tough defender, strong body.

TOC Dec. 08 II: While Brea Olinda (Brea, Calif.) may not have gotten past Wesleyan (Norcross, Ga.) in its first round game in the TOC, they did, however, showcase one of the outstanding sophomores on hand. Forward Justine Hartman demonstrated the skills and potential that tabbed her as last season's California State Freshman of the Year. A season later she's picking up where she left off and catching the eye of the large contingent of college recruiters on hand. Standing 6-2 with a strong and athletic build, she is aggressive on the block and can finish effectively around the rim. She runs the floor in transition and has the ability put the ball on the floor in the half court if the situation arises. Defensively she's willing to put a body on her opponent and has the strength to clear space in the rebounding wars. The long tradition of success at Brea and their history of player development tell you that Hartman is just scratching the surface of some extraordinary potential.

TOC Dec. 08 I: Young, good size, solid build and good coaching - a nice combination. With major potential Hartman is impressive with her skills as well as her versatility. She can finish low on the block and does so aggressively with strength. She can also put it on the floor and get to the rim off a one or two dribble drive. She%u2019ll need to be more active defensively but all the tools are there to move with anyone.
Notes
Club Team: Cal Storm

USA Basketball U16 national team gold medalist, 2009. ... missed club season 2010 following knee surgery.