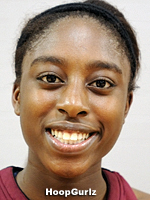 Chiney Ogwumike
Forward
CLASS: 2010
Cypress, TX

Hometown

Cy-Fair

High School
1

Overall Rank

1

Position Rank
ESPN Player Evaluations
Nike Nationals-July 09: The top player in the class certainly looked the part this summer. As has been contended all along, her improvement is steady and consistent with no signs of reaching a ceiling. Athletically she is as gifted as any in the class and her work ethic continues to produce results. She is expanding her perimeter skills, her left hand, mid-range shooting and overall efficiency. When in doubt she can post and go to work in the lane. Defensively she is a coach's dream. She has length, quickness, speed, and a high motor. She can play anywhere on the floor with her size, athleticism and determination. You can put her on the ball in a full court press and she will torment the ball-handler and make passing lanes disappear. You can put her on the top of a half court trap and visibility will be nill and passes tipped will be ample. She also has the quickness to play in the middle or back line of pressing schemes to break on passing lanes or block shots from the backside rotation. She is a student of the game and should make her teammates better every time she steps on the floor and at every level she plays.

Boo Williams-April 09: Chiney Ogwumike's maturity and leadership on the court are just the icing on the cake for the top forward in the 2010 class. The Cypress, Texas native's game is evolving as she is showing improved perimeter skills, which makes her more than just a paint scoring threat. For the Cy-Fair Shock she blocks and alters shots with almost radar like precision and is extremely active on the offensive and defensive boards. Her focused approach to the game, combined with her physical tools, make her a player with unlimited potential.

Summer 08 II: Chiney is developing into a wing and her prowess defensively is ahead of her development offensively. She is a terrific defender who can play up, middle or back in a press, tips passes consistently and blocks shots in the lane. She has a ton of ways to score on you in the paint and is being more aggressive on the perimeter. Developing her handle and shooting off the dribble will help her to become a weapon both inside and out. The athleticism is there allowing her to do anything she builds the skills to do. She also has a great attitude on the court and is a natural leader.

Summer 08 I: Ogwumike assumes the role as the leader of the Cy-Fair Shock and it is a role she is excelling in. Despite a bit of a slow start to the tournament individually she found other ways to lead the team and really got herself going as the tournament progressed. To top it off she hit the game winning shot in the bracket finals against North Tartan 15's. Ogwumike continues to prove she's one of the classes top players and she does so much more than score the basketball.

Nike Skills June 08: Chiney Ogwumike is maturing as a player minute-by-minute. Her effort this week was great, leading to her making a bigger impact defensively than expected against such incredible offensive talent. That full-throttle effort did lead to some uncharacteristic turnovers, but as her ballhandling improves it gets her into situations she has not been faced with as an interior player. The game here is faster, but with her athleticism she doesn't need to hurry to keep up, a lesson she started to learn as the event went on. The comparisons to her sister Nneka really aren't fair because even against this top competition it is evident she will be a big wing in college. Her ballhandling and perimeter shooting need to continue to improve as they have over the past year.

Summer 07: Chiney Ogwumike is at this point the top 2010 we've seen and she doesn't get enough pub because her older sister, 2008 Stanford signee, Nneka, has been the headline focus. The first thing people tend to do is compare the two sisters because of their similar height. Well the two are very different players.
True both Chiney and Nneka are accomplished interior scorers with great athleticism but I wouldn't project them both at the same position in college. Chiney%u2019s athleticism is more conducive to developing as a big wing where her sister Nneka, despite incredible athleticism is just so dominating at the four that she'll likely excel there in college as well.
Chiney really needs to continue developing her ball handling skills to unlock her potential as a wing player at the college level. She is a graceful athlete with great body control. She has a nice release on her shot but will need to expand her range to 18 to 20 feet to be ready for the wing in college.
Her length and quickness are what definite strengths now as she covers a lot of ground and can make passing lanes both in the post and on the perimeter disappear. She is ahead of her time in making post entry passes, by virtue of playing with her sister. For her size she also has very good speed in running the floor.
On the inside she shows very good footwork and strong pivots which will only get stronger as she fills out. Her footwork around the basket is solid, she gets her feet set before elevating to finish and she is a very good finisher.
What is very promising is how hard she works and how well she communicates given her youth. When she is open inside she calls for the ball and gives a big target, she talks on defense as well.
Notes
Club Team: Cy-Fair Shock 90

Selected to the 2010 WBCA All-American Team

Gatorade National Player of the Year 09-10.