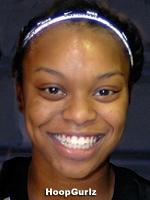 Odyssey Sims
Point Guard
CLASS: 2010
Irving, TX

Hometown

MacArthur

High School
3

Overall Rank

1

Position Rank
ESPN Player Evaluations
Boo Williams If all coaches truly love a player who defends, then there wouldn't be one out there who wouldn't love Odyssey Sims. The 5-8 point guard from DFW T-Jack is setting new standards when it comes to on-ball pressure and it's made her a more effective offensive threat. Creating transition opportunities off turnovers and rushed shots puts her in the position that she's most effective -- full speed. Her decision making and shot selection have matured as well and the left hander buried several 3-pointers with an impressive soft touch. Her energetic enthusiasm and leadership effort is contagious and effective with her teammates. Currently ranked No. 9 in the ESPN HoopGurlz Super Sixty, she made quite a case for climbing the ladder a rung or two.

Summer 08 II: Physically she has all the tools to be a big time point guard with potential for pro ball. She has quickness and explosiveness with the ball which is unmatched. She has a tenaciousness and loves to dominate the opposition. She has the ability to create agianst almost any defense. Too often she creates for herself and needs to grow as a floor general and distributor. The point guard position requires even more mental toughness and basketball IQ. She has the competitive nature and aggression and needs to put the mental piece in with the physical to complete the puzzle.

Summer 08 I: Great players often get into what many refer to as "the zone," and when it happens the players are seemingly untouchable. For most of the tournament Odyssey Sims was in that zone. She had the look in her eye that this tournament would be hers. Her first step was just a tad more explosive, her focus on defense just a smidgen sharper and her jumper completely dialed in. The 5-7 point guard from Irving, Texas, played as well as she ever has. She navigated her way through swarms of defenses set up to stop her from penetrating and punished them for backing off of her. Her swagger on the court can sometimes seem combative but this week her intensity and leadership was at the forefront. She encouraged teammates, communicated with her entire team and just played on a completely different level than every other guard in the tournament. If she can find consistency and play like this week after week, she may be the highest-rated point guard ever by ESPN HoopGurlz and it could be No. 1 overall.

Nike Skills June 08: Odyssey Sims, a left handed 2010 speedster, showed an ability to get to the rim time and again. She'll want to be more efficient on those drives as a lot of them came away without a bucket, assist or foul. The reality is she creates opportunities for both herself and her teammates, but her decision making isn't as quick as her moves. Helpside is going to be less and less effective against her drive as her ability to read defenses and her shot selection progresses. Parts of her game may seem unpolished but the many glimmers that she shows are a brilliant shine.

Spring 08: Unlike Homer's hero, it doesn't take Odyssey Sims 20 years to go coast to coast -- she's there in a blink. Though everyone knows she wants to go left, it's hard to stop her, and her 25 in the championship game was proof that even the top players in the country can't keep her from going off.
Notes
Selected to the 2010 WBCA All-American Team
MVP, District 7-5A, 2008 All-State 5A, Texas Girls Coaches Association, 2008 Averaged 20.2 points, five steals, five assists and five rebounds as freshman, 2007
Club Team: DFW Elite