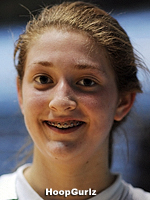 Theresa Plaisance
Post
CLASS: 2010
Houma, LA

Hometown

Vandebilt Catholic School

High School
40

Overall Rank

3

Position Rank
ESPN Player Evaluations
Boo Williams-April 09: Good hands, tends to struggle offensively against a more aggressive physical opponent.

Dec 08: Theresa Plaisance (Vanderbilt Catholic / Terrebonne Parish, La.) is an extremely long, 6-5 post player who has develop a nice hook shot around the basket and has several nice post moves. She passes well out of the double teams she constantly faces. Although Plaisance can shoot the 3-pt shot, she has the tendency to drift away from the basket during offensive sets, thus at time causing herself to miss out on rebounding opportunities.

Spring 08: Theresa Plaisance is a young player who has a lot of potential. She already is doing big-time stuff like baby hooks and swim moves to get open. She can knock down 3s as a post player and makes herself big in the paint. Plaisance also sees the court very well and even broke the press one time with the dribble. To develop further, she will need more conditioning and a little more time in the weight room.
Notes
Second Team, All-State 3A, Louisiana Sports Writers Association, 2008 Elite Team, Clarion Herald, 2008