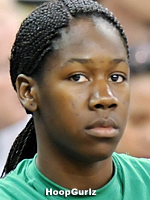 Afure Jemerigbe
Guard
CLASS: 2010
Stockton, CA

Hometown

Saint Mary's

High School
15

Overall Rank

2

Position Rank
ESPN Player Evaluations
Nike TOC-Dec. 09: FROM THE CHAMPIONSHIP GAME ONLY -- When things go cold for the No. 1 team in the country, someone has to step up and make things happen. St. Mary's guard Afure Jemerigbe was the one ray of hope for the Rams against Mater Dei's active, aggressive and rotating defense. The HoopGurlz 100 No. 15 and Cal-bound senior attacked off the dribble getting into the paint time and again. Despite producing 16 points, her penetration resulted in a challenging evening with several shots rolling out and two player-control fouls being called on her efforts.
Even with the mixed results and disappointing outcome of the game, it's easy to see the potential that Jemerigbe has tapped into. Her explosive first step is not only quick but lengthy as well. The ground she covers off her first dribble gets her past virtually any defender and creates the opportunity for either the pull up or the finish at the rim. Whether it's a jumper or a shot in traffic, she elevates and creates open looks and often gets to the line. St. Mary's stagnant offense limited her ability to create options for her teammates from her penetration against the Monarchs.
Athletically she's got strength, speed and quickness that some current college players can only hope for. She's willing to mix it up defensively and has the lateral speed to match up at any perimeter spot. On top of that, the tools are there to be an exceptional rebounder from the guard spot.

Boo Williams-April 09: St. Mary's High School in Stockton, CA, not only has the benefits of a guard like Gray on the roster; it also has high level depth in backcourt teammate Afure Jemerigbe. Playing for the Norcal Elite, the 6-foot guard demonstrated that her game is evolving to the next level. Her constant attack with the ball in her hands combined with her aggressive defensive efforts makes her a factor on every possession. She's penetrating more often and pulled up for several short jumpers with good success. At the other end of the floor, she's evolving into a top-of-the-line stopper who can match up at any spot on the perimeter. Headed into the weekend ranked No. 23 in the ESPN HoopGurlz Super Sixty, she has the athleticism and developing skills to find what she wants in a college program without compromise.

TOC Dec. 08: More explosive than her talented teammate, Jemerigbe creates and slashes into the paint against almost any defender. Her ballhandling is effective in the half court and will have to be the same in transition situations at the next level. She's an attacking player on both ends of the floor and has all the tools to play at any level with any opponent.

Nike Skills June 08:Afure Jemerigbe's explosiveness has been touted for the better part of the last year and deservedly so. She ran up against a plethora of challenges defensively that your average high schooler can't pose but that she'll see on a regular basis in college. With the collection of fantastic post players here, all the guards had to adjust to a game where there was always a shot-blocking presence in the paint. That's a change for Jemerigbe, who can usually elevate over the defense even if the help does collapse. She scored well at times and found the lane clogged others, and gaining a further understanding of spacing offensively and reading where the help defense is and when to attack will really help her on the next level. Unfortunately her athleticism has made things so easy that until this week it has never been that important.

Nike Skills May 08: Afure Jemerigbe is the best in the class I've seen to date at attacking off the dribble. She is strong and physical and does a lot of little things that go unnoticed by some, which makes her so successful in her drives to the cup. She knows to get into the defender's hips, maintain contact to keep leverage and just before she extends to the basket, she creates just a little more contact to keep the defender from elevating and bothering her shot. Some kids are physical by just bulling their way in there; Jemerigbe attacks with technical mastery. She is a scoring machine and a physical defender. If her passing improves to allow her to find open spot-up shooters and driving post players, she will be a more complete offensive player.
Notes
Norcal Elite-Black
Selected to the 2010 WBCA All-American Team
2007-2008 (Sophomore Year): Northern California Elite Showcase All Star
2006-2007 (Freshman Year): Averaged 14 pts, 6.8 rebs, 2.5 stls, 2.3 asst. Northern California Division III Semi Finals