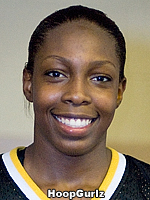 Chelsea Gray
Point Guard
CLASS: 2010
Manteca, CA

Hometown

Saint Mary's

High School
4

Overall Rank

2

Position Rank
ESPN Player Evaluations
Nike TOC-Dec. 09:Even the best have their tough days and Chelsea Gray suffered through one in the TOC final. Don't be mistaken, she still got to the rim and created shots and there was no problem navigating traffic in transition. The problem was that nothing would drop. Lay ups, jumpers and free throws alike just would not go down and in the end Mater Dei took home the title. Without a doubt Gray is still one of premier point guards to come out of the high school ranks in the last several years. Few playmakers can see the floor and make the passes that she can and, on normal nights, put her own points on the board. She may need to distribute the ball a bit more at the next level when those cold nights come calling but nights like that won't happen often and she'll be surrounded by lots of options at Duke.

Boo Williams-April 09: Things happen when California Storm Team Taurasi point guard Chelsea Gray touches the ball. The No. 18 player in the ESPN HoopGurlz Super Sixty heading into the Spring creates shots, passes and tempo. Already recognized as one of the more impressive passers in the country, she sets the pace of the game with her willingness to kick it ahead off both makes and misses. Her ballhandling allows her to navigate pressure on her own as well. It may appear somewhat out of control at times but her decision making gets results. On occasion her shot selection raises an eyebrow but more often than not things work out. Physically, there seems to be a leaner look in place and that can't be good news for opponents drawing her as a match up.

TOC Dec. 08: Easily one of the more talented prospects in the 2010 class, Gray continues to improve and take her game to higher levels. She has the ability to attack off the dribble from the top and the wing and has the range to force defenders out on her as well. Her passing skills and vision make her a dream for her teammates and she%u2019s not hesitant to give it up. Defensively she attacks but will have to anticipate just a little more with quicker, smaller guards that she may end up matched up on.

Summer 08: Chelsea Gray, a 5-11 guard from Manteca, Calif., is evolving into the next West Coast scoring machine. She can light up a scoreboard on the drive, with the pull up or on the perimeter with the jump shot. Whether its pressure from her defender or defensive help staring her in the face, she slashes and creates her own shots. When she gets into the lane she's a finisher, it's as simple as that. Her perimeter game forces opponents to close out on the catch and if she doesn't get a good look, she's putting it on the floor to find a better one. Her ability to distribute the ball will become an important aspect of her game as she becomes more and more of a focus in opponent's scouting efforts. Her 24 points led the way in the Storm's Silver bracket quarter final win over a talented Michigan Crossover team.

Nike Skills June 08: An athletic wing from northern California, Chelsea Gray had some outstanding moments in Portland. She can attack with and without the ball. Her ability to turn the corner off screens is going to create a lot of scoring opportunities for her in the future. Her choices and decision making were suspect at times, but there seemed to be an awkward adjustment to having some of the nation's top posts in the paint. You can see the refinement of her game coming at both ends of the floor as she has the ability to attack defensively as well. The best is yet to come.

Nike Skills May 08: Chelsea Gray brought a great attitude to the floor and hit it off with the coaches. She is a terrific passer on the fast break and one of the best point guards in the country. Her strong build allows her to execute the advanced moves even when she's defended. I think she understood what Baker was explaining to the point guards about simulating how Chauncey Billups, an NBA point guard, sets the table. Instead of making five or six fancy dribble moves while his teammates get open, Billups uses his strength and positions his body to work smarter instead of harder. She showed at times that she can utilize this as well. Gray makes those around her better, a must for a point guard.

Spring 08: At 5-10, Gray is tremendous wing player, who can not only shoot 3s but go inside and bang with the big girls. She showed great defensive chops as well and why she's one of NorCal's top 2010s.
Notes
Club Team: Cal Storm

Selected to the 2010 WBCA All-American Team
Nike National Skills Academy, 2008, 2009. ... Gatorade State Player of the Year, 09-10.

Note: Gray is the niece of Cal point guard Alexis Gray-Lawson.