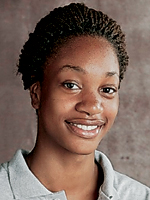 Michala Johnson
Forward
CLASS: 2010
Lombard, IL

Hometown

Montini Catholic

High School
46

Overall Rank

7

Position Rank
ESPN Player Evaluations
Summer 08 II: At 6-2 Michala Johnson of the Full Package Lady Lightning Elite Platinum can be an impact and dominant player on almost any court she steps. A slashing and athletic forward, she poses a match up problem for almost any opponent. Throw in a high altitude vertical and you can quickly put some points on the board. Her movement without the ball, in particular her cutting off screens, is equal to almost anyone at the high school level. She did struggle down the stretch in Memphis finishing some chip shots, but it won't deter any recruiters who know a good thing when they see it.

Summer 08 I: Johnson has an impressively defined post game for such a young age. She hasn't filled out much, but makes up for lack of mass with great mobility and leaping ability, and an assortment of inside shots, including layups and jump hooks with both hands. She surprised by walking her defender up the lane, then sealing her to call for and receive an overhead, lob entry, which she finished with her extendo arms. She does a good job with help defense, keeping track of her matchup off the ball, while helping, when needed, with blocks and deterrents.

Nike Skills May 08: Michala Johnson is a hard-working kid just starting to come into her own. She is a 6-2 forward/center with super athleticism. She is starting to build strength now, and the biggest obstacle for her is to simply start lower with a wider base and stay low until she elevates to finish. She has one of the quickest baseline spins of any high school post player and has developed good footwork on other post moves. What was promising is the coaches in one particular drill put an emphasis on starting low and wide before catching the ball and being physical and she picked up on it. When she was able to start low, her length really complemented her quickness as she covered so much more ground on her drop steps. Her improvement even from the high school season to now is impressive and she is definitely one of the gems in the 2010 class.

Spring 08: Michala Johnson had a good weekend and impressed most with her strong finishes at the basket. At 6-2 she has a great burst when she attacks defenders. She showed some ability to face up and attack and great pivot moves.
Notes
MVP, Select Division, Deep South Classic, 2007 Player of the Year, Press Publication, 2007 Player of the Year, GCAC, 2007 All-Conference, GCAC, 2007 Averaged 20.6 points, 12.2 rebounds, shot 68 percent as freshman

Club Team: Full Package Lady Lightning

Surgery to repair ACL tear scheduled for Jan. 30, 2009. Partial tear occured in November. May not play the 2009 club season.