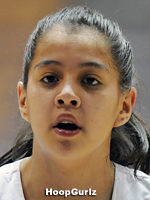 Shoni Schimmel
Point Guard
CLASS: 2010
Hermiston, OR

Hometown

Franklin

High School
8

Overall Rank

3

Position Rank
ESPN Player Evaluations
adidas Northwest Showcase-July 09: The Schimmel Show is one of the best tickets in town. Shoni and Jude Schimmel are a sister act out of Pendleton, Ore., which makes dazzling plays that bring applause from even the opposition's fans. Shoni, the older of the two, is a dynamic player with NBA range and unprecedented passing skills. What is most impressive about this 5-10 combo guard is her ability to create her own shot. She can take her defender one-on-one at any time and create open shots for her teammates. Those who play with her may have learned the hard way to be alert at all times for her sniper rifle passes, but one person who is used to catching her bullets is her younger sister, Jude. This fearless point guard has a game that is much bigger than her size. While her offensive skills make her a threat from behind the arch and in transition, her defense is her greatest strength. Jude is a scrappy and tenacious defender with an endless motor. With two more years to develop in high school, she is a young talent worth keeping an eye on.

adidas Spring Classic-April 09: A lot has already been written about Oregon Reign guard Shoni Schimmel. She has the swag and flare that few others have. Last year, it was Samantha Prahalis who was the resident entertainer and you can ask the Big Ten conference how the Ohio State freshman's game translated to the college level. The catch here is that Schimmel is bigger at 5-10 and has a strong frame. She can create separation from any defender with her creative handle and she has no problem raising up for a jumper from anywhere on the court, once she has created that space. What is holding her back right now is getting into elite athlete level conditioning. She was injured late in her high school season and is still getting that part right. She isn't afraid to take big shots, no matter how well she is shooting prior.

Summer 08: Shoni Schimmel, a 5-9 combo guard out of Pendleton, Ore., has the skills and court instinct to make everyone in the gym pay attention each time she touches the ball. She's uncanny both with her scoring and passing ability and it's almost always with some flair. The range on her perimeter shot is pretty much anything inside half court and if defenses think about doubling, she's going to find her open teammate. She penetrates with some deft ballhandling skills and makes things happen for herself and her Oregon Reign teammates. Her foot speed isn't exceptional, but it's sound and with her basketball intelligence she makes some defensive highlights as well. There's going to be quite a crowd knocking on the Schimmel front door next year.
Notes
As of Feb. 19, 2010, Schimmel also is considering Colorado, Washington and Baylor.

Selected to the 2010 WBCA All-American Team
First Team, All-Tournament, Oregon 5A, 2008. ...Player of the Year, Inter-Mountain Conference, 2008. ...First Team, All-State 5A, 2008. ...First Team, All-Conference, Inter-Mountain, 2008. ...First Team, All-State 5A, 2007. ...Averaged 20 points, 7 assists, 4 steals at state tournament, 2007. ...Averaged 15.8 points, 5.4 assists, 4.3 rebounds and 4.3 steals as a freshman, 2007.

2007 Club Team: Team Concept-Fire
2008-2009 Club Team: Oregon Reign