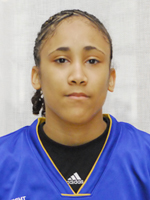 Meighan Simmons
Guard
CLASS: 2010
Cibolo, TX

Hometown

Byron P. Steele II

High School
24

Overall Rank

7

Position Rank
ESPN Player Evaluations
adidas Spring Classic-April 09: Meighan Simmons can flat out play. The Cibolo, Texas native is a fierce defender and has no problem carrying her team to the finish line. She plays with an intensity that you can read on her face with her trademark scowl. She does a great job threatening the defense with jab-steps to create space and she elevates high and releases quick on a shot that is good to 20-feet or more. The TeamXpress star may not have prototypical size for a shooting guard at 5-8, but that's not stopping all the big dogs from recruiting her.

Summer 08: Meighan Simmons out of Cibolo, Texas, provides plays the point at the speed of an Olympic sprinter. For most players that usually leads to bad choices and turnovers. Not so for Simmons. At 5-8, she has outstanding court vision and constantly makes sharp passes setting up her teammates. Making her even more of a threat was the fact she spotted up and knocked down a couple of long balls forcing defenders to stay tight. Tight isn't where you want to be with her quickness and ball handling skills. The Team Xpress floor leader will have lots of choices when the time comes.

Spring 08: Meighan Simmons had a terrific tournament but found the iron unkind in the adidas championship game against Exodus. She is an aggressive guard who doesn't back down from ball pressure. The 5-8 scorer shot the ball well from the perimeter and showed great bounce in elevating to the rim on dribble penetration. She is also a fantastic finisher on the break and a hard-nosed defender.
Notes
Selected to the 2010 WBCA All-American Team
Club Team: Team Xpress Black