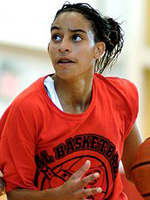 Bria Hartley
Point Guard
CLASS: 2010
North Babylon, NY

Hometown

North Babylon

High School
14

Overall Rank

4

Position Rank
ESPN Player Evaluations
Deep South Classic: For the point guard position she has great length and pushes the tempo in both transition and halfcourt situations. Can score it off the dribble with pull-up with ease and even off a dead sprint.

Kennedy Classic-Jan. 09: North Babylon is not blessed with a lot of size and has an inclination to take on the best and brightest from the concrete island of Manhattan. So what's more-often needed than Bria Hartley's great knack for running a team at its highest speed and rate of efficiency, is her gorgeous pull-up jumper. Out-quicking a defender is not her game; rather, with or without the ball, she'll throw out subtle moves -- a hip there, a raised eyebrow there -- to buy enough real estate to get open or her shot off. Hartley also can buy space with unexaggerated, but nicely executed moves off the dribble, even on the dead run without losing balance or traction. At the other end of the floor, she puts desire and her length to such great use that her listing at 5-7 in a game program could elicit a double take.

Spring 08: Bria Hartley would be my selection for the MVP of the U17 championship game of the adidas Super South Showcase. Her poise and command of the game as the primary ball handler and ability to create off the dribble were extremely impressive. The clutch timing of her best performance was even more remarkable. She played well earlier in the tournament but the final game was definitely a statement game for the 5-9 guard.
Notes
Club Team:: Exodus NYC

Selected to the 2010 WBCA All-American Team
Metro Classic, 2007

As of Feb. 2, 2009 recruitment is open but she lists seven schools: Connecticut, Duke, Georgetown, Kentucky, Louisville, North Carolina and Stanford