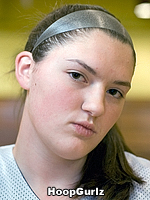 Stefanie Dolson
Post
CLASS: 2010
Slate Hill, NY

Hometown

Minisink Valley

High School
39

Overall Rank

2

Position Rank
ESPN Player Evaluations
Boo Williams-April 09: Stefanie Dolson might be wearing a new uniform, but her game still has a familiar look. The Jervis, N.Y., native and Connecticut commit displayed an impressive low-post presence scoring effectively for her new club, the Tennessee Flight. Her deceptively quick feet and ability to spin off defenders created short, open looks that she finished consistently. She also showed the ability to knock down the short jumper on several occasions. She resembles former Duke standout and current WNBA player Alison Bales. While her 6-foot-5 size may minimize the need for a shot fake, Sunday's final exposed the need for the use of one against some of the athletic leapers she'll see down the road.

Kennedy Classic-Jan. 09: Few post prospects work as hard as Stefanie Dolson to get good position on the low boxes. The Connecticut commit out of Minisink (N.Y.) High School bumps, grinds and is as willing to dish contact as accept it. These are great assets to have at 6 feet 5. Plus her hands also are always high and ready to receive the ball. The next step in her evolution at the position is learning the leverage game -- using knees to work her hips lower than her defender's, to claim and maintain territory. Dolson also needs to play more with her hands above her shoulders at the defensive end. This would aid her effectiveness as a rebounder as well as influence more shots, even if she does not block them. Currently, she tends to flick her arms out, which, if ill-timed, would not enter a shooter's field of vision until it is too late. At this point, these merely are nits being picked with the top post in the class, one who plays hard and with great attitude.

Summer 08: She is definitely one of those players you notice when you walk into the gym. Her size and build are imposing, but also very deceiving. She possesses tremendous mobility and can run the court as well as the much smaller centers she usually lines up against. She posts up aggressively on the block and is well aware of providing angles and targets for her perimeter teammates. On the catch she is conscious of her positioning and finishes effectively with very solid moves. Her size makes her an effective screener, which frees up her teammates for both jumpers and penetration to the hoop. Defensively, she alters a lot of shots and grabs more than her share of rebounds at either end of the floor. Her conditioning seemed to come into play at times and will need to improve to make the most of what she brings to the floor.

Spring 08: Dolson is a legit 6-5 2010 post player with good size. She hit a free-throw line jumper and finished a couple times on the block. When she or one of her teammates did miss, she caught and kept the ball high to put it back in the basket. Her size makes her a big asset on the defensive end making it hard for guards to get where they want to go.
Notes
AAU 15y National Champions, 2007...Times Herald Record Player of the Year 2007-08...averaged 21 ppg,12 rb.