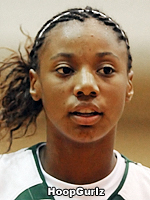 Thaddesia Southall
Forward
CLASS: 2010
Long Beach, CA

Hometown

Polytechnic

High School
99

Overall Rank

19

Position Rank
ESPN Player Evaluations
Deep South Classic-April 09: Southall has been an imposing defensive presence since her first days on the high-school and club scenes. She has an impressive wingspan and is quick off the floor, so she influences or blocks a lot of shots and can be dominating around the glass. She has improved from essentially a non-factor on offense to one who is more assertive in the red zone. That usually means garbage points and occasional drop-step from the lower box. The next step in her offensive evolution is being more consistent with a face-up-and-go, one-dribble swoop, which she shows maybe once a game, then abandons. Other good additions for her would be an 6-10-foot jumper and improvement at the foul line, where she can make frequent trips.

TOC Dec. 08: A long and lean forward with impressive mobility. She also has some perimeter skills that allow her to get by bigger, slower defenders. Inside she attacks the rim awkwardly at times but can finish. Her defensive effort may be her strength with agility and a wide wingspan. Does play soft at times in the paint but has the tools to mix it up.

Summer 08: Thaddesia Southall is another player that is extremely underrated because she plays with so much talent around her both in high school and in club ball with the Cal Sparks. Defensively she is a big time player as she can swat shots away in the paint or torment a guard on the perimeter with her length and quickness. The 6-3 forward is comparable to a young Ashley Gayle (Texas) defensively and is also a terror on the glass. Even if she doesn't develop as a major scoring option she will still make an impact at the college level.

TOC Dec 07: Southall is a sophomore forward with incredible potential. She plays and looks taller than the 6-foot-2 she is listed at. Much of that is due to her length. She projects as a college forward at this point as she doesn't have the physical strength and width to play the center position in college. A lot can change in three years though.
Offensively she cleans up the offensive glass and is every quick off of her feet. She gets the rebound at its highest point and gets it back on the glass quickly. What is missing is the ability to get position on the block and go to work with polisihed post moves. With Jasmine Dixon and Monique Oliver on the team she doesn't get too many chances to catch in on the blocks anyways.
Luckily Poly plays so up-tempo that she gets to showcase her speed. She can outrun a lot of wing players and can score in transition with a decent point guard pushing the tempo. She even stepped out and knocked down a couple of long jumpers in their loss to Sacred Heart. She isn't afraid to shoot the ball but her form doesn't suggest she's a "shooter" by any stretch.
Defensively her quickness and length allows her to come over from the weakside and block shots on dribble penetration and on interior players. What was nice to see is that she doesn't usually swing at the ball to block it, she does a good job most possession of getting position and extending her arms straight up. She shows a basic knowledge of help side defense but her quickness and lenght bailed her out on several occasions. If she improves her knowledge of where to be on the court she should be able to stay out of foul trouble.
Right now she looks like a young Ashley Gayle (2008 class Texas Signee). She's not as far along on the offensive end but there are a lot of similarities in their games. Southall might even be quicker off her feet.
Notes
Club Team: Cal Sparks Gold

Recruiting Notes: as of 7/30/09 her top schools include Arizona State, Duke, Louisville, Oregon, Rutgers, Southern California.