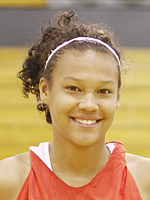 Azia Bishop
Post
CLASS: 2011
Toledo, OH

Hometown

Start

High School
34

Overall Rank

3

Position Rank
ESPN Player Evaluations
Classic in the Country-Jan. 11: Running the floor as she did in the summer. Gets out on the break but also forces defenders to get back after made shots as well. Finishes very efficiently around the rim going a combined 12 for 23 from the floor in both games. She also demonstrated an ability to get to the line attempting 24 freethrows in two games but only connecting on 15 of them. She was a force in both games on the boards, especially the offensive glass. Still not the most physical presence on the floor but you can't hit her if you can't catch her. (Lewis)

USJN DC-July 10: Bishop seems to have found a new gear and is running the floor like a smaller and quicker guard. If she doesn't have the board she's out ahead of almost anyone and looking at layup after layup. She's smooth and fluid in traffic and again is showing more of a willingness to play the physical game she's always avoided. Later in the event in DC she had a couple of tough games finishing the short looks inside but was still getting the looks that will drop for her in the future. (Lewis)

Battle in the Boro-July 10: Bishop has taken that next step from promising recruit to elite prospect. Using her size and speed she's covering the floor like a blanket. Offensively she's scoring well from both the high post and on the interior. She's getting out in transition like a wide receiver going deep. Her rebounding is a factor at both ends and she's active and aggressive defensively. While she's playing more physical than in the past she's still more suited for the #4 than the pounding on the block. (Lewis)

Run For Roses-July 10: She showed improvement in key areas of her game..she is running the floor and looking to score in transition. Her footwork is post footwork is solid and she showed that she can be patience and execute counter moves. (Bodine)

Braggin' Rights-Dec. 09: Seems to be leveling off in terms of the advancement of her game. Still an impressive prospect with lots of physical tools and the skills to go with it. Her size and athleticism make her a difficult match up for most opponents. Her agility and speed make her a threat in transition as well as halfcourt sets. There seems to be less of a willingness to mix it up and play physical as there was in the past. She's still effective down low but seemed to shy away from contact. All the tools are in place to be a top tier #4 at the highest level with the right focus.

Boo Williams-April 09: Trememdous upside still very raw but runs the floor as well as anyone her size.

Classic in the Country-Jan. 09: Toledo Start is one of those teams that has the potential to knock off any opponent on almost any night. A major factor is their inside game of senior Toledo signee Yolanda Richardson and 6-2 Azia Bishop. Bishop has the size, athleticism and mobility to develop into one of the top young post players in the Midwest. She plays aggressively and isn't hesitant to put a body on someone. Her ability to face up is highlighted by a quick first step to the rim. She'll have to become more efficient at finishing in traffic but that may well come as she fills out and matures athletically.

Braggin Rights-Jan. 09: Toledo Start post Azia Bishop may be just scratching the surface of where she might take her game. At 6-2 she has good size and a solid build to match up with most opponents. She runs the floor well and is there in transition at both ends. She's willing to put it on the floor some and although she didn't take any jump shots she seems to have good form from the line. The biggest obstacle right now is that she plays very upright both offensively and defensively. She'll need to post wider and lower as her game matures and if she gets into a better defensive stance she won't get flashed on in the paint. She has lots of tools and is just a sophomore.
Notes
Club Team: Sport City U