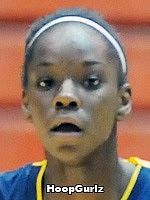 Samarie Walker
Wing
CLASS: 2010
Dayton, OH

Hometown

Chaminade-Julienne

High School
10

Overall Rank

5

Position Rank
ESPN Player Evaluations
TOC Dec. 08: Explosive and dynamic athlete with the tools to dominate. Her basketball skills are good but not to the degree of her athleticism. At the next level she'll need some more diversity in her game to make the most of her unlimited potential. The power and grace she plays with are smooth and almost seem effortless at times. She can get from point A to B without defenders reacting, creating easy scoring opportunities. Extending her range will make her a match up nightmare for opposing defenses and stepping up her ballhandling will get her even more easy looks.

Summer 08 II: Walker has a tremendous amount of upside and usually that means a player is somewhat inconsistent in their effectiveness but that's simply not the case with Samarie. She is in the elite tier athletically and spent most of her pre-high school days in the post which leads to good touch around the basket. Her quickness and ability off the dribble make her legitimate swing player. She shows range to the three-point line and the ability to knock down those shots off the dribble. She is good at navigating in the lane through the defenders and absorbs contact reasonably well. Getting stronger and finishing more consistenly through contact will take her game up to the next level. Around the basket she takes advantage of her quick leaping abilty. She scores in big numbers without needs sets run to her and she moves well off the ball as well. She could polish up her handle and continue to learn the game on the perimeter but she is already a big-time impact player.

Summer 08 I: Samarie Walker of West Carrollton, Ohio, may just be the best player here in the AAU championships. What is fantastic about her game is that she doesn't dominate the basketball. She plays as a part of her team and in spurts takes over the game. In one stretch on Thursday against WBA Prestige she played janitor and cleaned up the glass, scoring numerous buckets with her athleticism and determination. This 6-1 wing gets off the ground very quickly and despite her lack of bulging muscles still finishes through contact. In another stint of the same game she made things happen off the dribble showing again her quick hops which allow her to pull-up for a jumper while the defense is still retreating. Walker also showed leadership ability by communicating regularly with her teammates and even calming down one of her backcourt mates when they were chirping too much with the referees in a game the Lady Diamonds were controlling.
Notes
Selected to the 2010 WBCA All-American Team
Special Mention, All-Ohio, Division I, 2008...First Team, All-District, Southwest Division I, 2008...Tournament-record 21 rebounds in a game, T-Mobile Invitational, 2007.