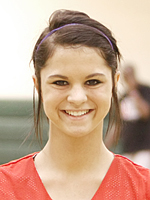 Alexia Standish
Point Guard
CLASS: 2011
Colleyville, TX

Hometown

Colleyville Heritage

High School
30

Overall Rank

6

Position Rank
ESPN Player Evaluations
USA U16 Trials-May 09: There was an adjustment period for Alexia Standish of Colleyville, Texas. She started out really strong in the first few sessions and then struggled when the defense was more physical with her. Part of it was that she wanted to run what the coach called, but with everyone learning the plays on the fly, she was often stuck with the ball waiting for things to happen. By the last few sessions, she shifted gears and identified when things were breaking down and made a basketball play outside the called play itself. She also shot the ball among the best in the trials from 3.

Nike Regional Skills Academy-May 09: Texas might seem a little out of place with all the other East Coast states listed on the roster, but there was nothing out of place about 5-7 Alexia Standish's play. The Colleyville Heritage (Texas) product and Cy-Fair point guard showed she's right at home in any setting with the ball in her hands. She has command of the floor and demonstrates all the instincts and court intelligence that recruiters are looking for in a floor leader. Her skills are textbook and she creates off the dribble, on the break or in half-court sets. She has the form and range to be a threat from the perimeter with the vision to pick apart defenses with her passing. Despite her somewhat slight build, she's a scrappy defender who's not hesitant to put a body on someone. What may be scary for opponents and exciting for college coaches is an obvious and continued improvement even from her performance just a month ago at the Boo Williams Invitational. Standish participated in this event as a result of her invitation to the USA Basketball U16 Trials and its conflicting dates with the Texas Regional Skills Academy.

Boo Williams-April 09: True point guards are hard to come by, but the Cy-Fair Shock have a special one in Alexia Standish. Demonstrating natural skills and instincts, the 5-8 Colleyville, Texas native is deceiving with her youthful appearance. There's nothing deceptive about her game, but she creates opportunities for her teammates and herself with impressive ballhandling and passing skills. She has a good stroke and the range to pick apart a zone or knock down a ball that gets kicked back out from a post. She was hounded by one of the nation's best defenders in Odyssey Sims of the DFW T-Jack Elite in a quarter final loss, but held up admirably against the intense, physical pressure. She did tend to play side-to-side a bit, rather than down floor, but then Sims seems to do that to a lot of players.
Notes
Club Team: Cy-Fair Shock

USA Basketball U16 National Team Member, 2009. ... Nike Regional Skills Academy, 2008, 2009.

Suffered torn ACL in Feb. 2010.