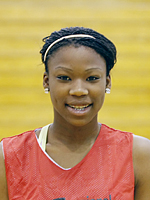 Dashawn Harden
Point Guard
CLASS: 2011
Overland Park, KS

Hometown

Saint Thomas Aquinas

High School
33

Overall Rank

7

Position Rank
ESPN Player Evaluations
Battle in the Boro-July 10: One of the most versatile and dynamic combo guards in the class. The ultra quick Harden can create off the dribble, connect from long range or collect assists off her sharp passing. The combination of her athleticism and skills make her a difficult match up for virtually any defender. there seems to be a more relentless attack to her game as she's keeping defenders on their heels on the break or in halfcourt play. Her shot selection still has it's moments but you can live with it considering her overall production. (Lewis)

Deep South-April 10: As a resident of the state of Florida, I've had the opportunity to watch Tony Bannister's teams at both Potter's House Christian Academy and the Jacksonville Rams (club team) and have been amazed at the way his guard always seems to dominate the tempo and control games with their pressure defense. During a Saturday matchup with the KC Select, the Rams encountered a counterpart who mirrored their own backcourt in the form of Harden. The KC Selects White guard seemed unfazed by the pressure defense and appeared at times to welcome the challenge. One of the top overall athletes in the field, Harden's quickness in the open floor was second to none. She has the ability to slide to the shooting guard spot as well, in which she did in a later contest. In the position of shooter, she produced six made 3-point shots while still controlling the tempo of the game with her exceptional quickness.

Deep South Classic-April 09: Very good speed and strength for the backcourt, a great finisher who protects the ball in the lane like an Easter egg.

Nike Skills May 08: DeShawn Harden brings great quickness and solid ballhandling to the floor. The 5-7 freshman point guard committed to the Jayhawks already this year. She was one of the players who came in and really worked to get warmed up before sessions, taking game speed shots with her coach. She does a great job of keeping the ball low in traffic. She has nice shooting form and has developed a nice mid-range jumper. Getting stronger is definitely needed before taking on the Big 12's finest.
Notes
Club Team: KC Select White

First team all-state, 2010 ... Nike Regional Skills Academy, 2008, 2009.