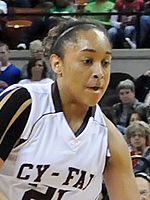 Cassie Peoples
Point Guard
CLASS: 2011
Houston, TX

Hometown

Cy-Fair

High School
36

Overall Rank

8

Position Rank
ESPN Player Evaluations
Nike Nationals-July 10: The skills and potential speak for themselves. What challenges you at times is the shot selection and over dribbling. They don't fit with a player of this caliber. Whether it's frustration or an effort to prove something, it's seems out of place and mystifying. None the less, the future is bright. At her best she can create and score as well as deliver the ball with some impressive passing. Defensively, on ball, she has lots of tools and has the potential to shut down opposing point guards at will. If she can make the players around her better, everyone will see the best in her game as well. (Lewis)

Battle For The Boro-July 10: Highly regarded point guard who can take over games at times. Scoring well off both the drive as well as perimeter looks. Utilizing the fall away to create some space and get her shot off. Over dribbling and shot selection are still an issue at times but when she's reading defenses and looking to distribute the ball she's one of the better playmakers in the class. (Lewis)

USA U17 Trials-June 10: If consistency is what you're looking for from your point guard you won't have to look much further than this 5-6 future Texas Longhorn. Peoples is a rare commodity in the sense that she's a facilitator but at the same time a threat in her own right. Creating off penetration, the Houston product dishes the ball well in traffic or takes it to the rim herself. Pulling up or spotting up on the perimeter, she's a legitimate offensive option with 3-point consistency. Her shot selection is still evolving but only occasionally does she call her own number ahead of a better look. In transition she sees the floor and isn't hesitant to kick it ahead. While that vision is always down floor, she often sees only one option at a time rather than taking it all in at once. It doesn't make her any less effective but sometimes better options are there than the ones she chooses. On the defensive end there may not have been a better on-ball defender present and she wasn't hesitant to pick up early and work a ballhandler the length of the floor. Better still, she dug in and took some charges that would keep any coach on any level smiling. (Lewis)

Boo Williams-April 10: The Cy-Fair point guard has inherited the team's leadership role in part due to the graduation of Chiney Ogwumike and also with the injury to fellow point guard Alexia Standish. She is one of the country's best perimeter threats and she now has to balance scoring and distributing full time. If she can find a way to get her teammates going early in games she will probably find it easier to score later in games when her team needs her to do so. She is capable of hitting shots anywhere inside of 22 feet and has the shifty ballhandling and footwork to create space at any point. She is a talented scorer that is making a major adjustment. The Texas commit recently received an invite to USA Basketball's team trials so she may find her summer is completely different than she once expected. (Hansen)

Summer 08: Cassie Peoples burst onto the national state as an eighth grader running the show for the Orlando Comets club program. The Florida native has moved and switched club teams as well, now with Essence. The 5-5 point guard is just about as smooth as silk and her jumper is just nasty. She gets the shot off with little or no effort and it looks like it's going in every time. Even when she shoots off the dribble it looks like it's going in. She plays at a controlled speed but has such good change of pace command that even if she's not playing fast she's playing effective.

Spring 07: Very smooth player with a super easy jumper. She can knock down the three, handle the ball, passes well and has a really nice mid-range J.
Notes
Club Team: Cy-Fair Shock

U18 USA Basketball National Team member, 2010 ... First team all-state, 2010 ... Relocating to Texas summer '08. Transferred from Father Lopez (Fla.) to Cypress-Fairbanks (Texas).