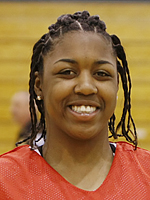 Raven Ferguson
Wing
CLASS: 2011
Columbus, OH

Hometown

Columbus Africentric

High School
35

Overall Rank

6

Position Rank
ESPN Player Evaluations
Classic in the Country-Jan. 11: Not her best outing but it wasn't a night where it was needed either. She went only 2 of 11 from the field and played only 21 minutes. She had six turnovers but did come up with seven rebounds in the win. The tools are all still evident and she should be back on track next time out. (Lewis)

Nike Summer Showcase-July. 10: Evolving into a much more complete and versatile guard. The one on one skills are top shelf but creating just as many passes as shots now. The spot up jumper has more consistency and her always reliable pull up is legit as ever. Physically more fit and becoming an impact player at both ends of the floor. (Lewis)

USA U17 Trials-June 10: This top-40 guard has been criticized for her consistency and her defense in recent tournaments. It is obvious that she is intent on proving these critiques wrong, as she put together one of the most complete performances to date. Historically she has exploded with big offensive games and accompanied with her physical strength and size her potential had earned her ranking. She showed poise, smarts and the internal motor to be among the best in her class throughout the trials and with the shortage of point guards in the U18 trials she moved over and showed the moxie to get her team into its offense while also keeping the smaller, quicker guards in front of her defensively. If she can continue this into the FIBA Americas tournament later this month and into July, her already impressive list of suitors will grow longer and her argument to be ranked higher will grow louder. (Hansen)

Boo Williams-April 10: Not one of her better performances. Still a good sized guard with individual skills and range but showing minimal diversity in her game. Defensive footspeed may be more of a question mark than in the past. Lots of potential but quite a few questions as well.

Braggin Rights-Dec. 09: This Africentric School (Columbus, Ohio) guard led her team to a state championship last season and appears to be taking her game to new heights, too. Demonstrating a more confident and versatile game, the 5-10 junior is settling less for the jumpers and looking to create more off the dribble. Her ability to go both ways keeps defenders guessing and she can shoot the pull up or get all the way to the rim. The range she's demonstrated in the past is still a lethal weapon and forces tight close outs from opponents. She appears more fit than ever and seems to have added some strength which makes her a challenging match up for smaller guards. Learning to be the same threat without the ball in her hands that she is with it will keep her from disappearing as she does at times.

Nike Regional Skills-May 09: Africentric High School star Raven Ferguson has the body to be a WNBA level shooting guard. She stands 5-11, but it's not her height that gives her WNBA potential because she is as strong as they come at her age. How much of that potential she realizes, is completely up to her. She has the ability to create shots for herself in almost any situation. Her pull-up and step-back jumpers are by far her favorites, but with her overwhelming size and athleticism getting to the basket is where she's going to make the leap from a very good offensive player to perhaps one of the premier scorers in her class. At times, she showed that she understands the mismatches she creates -- like taking smaller guards down into the paint and going straight at them. She should be at the free-throw line constantly at the high school level, if she can focus on getting to the cup and not settling for that pretty jumper. Consistency often comes with maturity and keeping in mind that she's just a sophomore should make coaches recruiting her very excited.

Braggin Rights Jan. 09: Guard Raven Ferguson has already become the go-to player as a sophomore for Columbus Africentric, and why not? She has the versatility to score from the perimeter or put it on the floor and take it to the rim. At 5-10 she can muscle some smaller guards on the drive but she also has the range to pull bigger defenders out deep. Her ballhandling and passing skills are effective and allow her to create for herself and her teammates. Defensive foot speed may be a question mark as she defends the quicker players at higher levels, but the instincts are there to stay in front of the ball.
Notes
Club Team: All-Ohio Black

Selected to the USA Basketball U18 National Team, 2010 ... second team all-state, 2010.

Raven is a cousin of NBA Player O.J. Mayo.