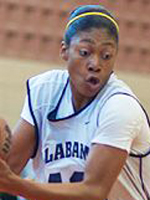 Kaneisha Horn
Wing
CLASS: 2010
Birmingham, AL

Hometown

Ramsay

High School
5

Overall Rank

2

Position Rank
ESPN Player Evaluations
Fall 08: Since July one thing is for sure, Horn has put a great deal of work into her perimeter shooting. This evolution makes her one of the most complete offensive packages in the class. There are times when Horn slithers to the rim, using quick and sharp moves, then finishes with one hand as equally well as the other. But there are just as many times when Horn appears to relish the contact she will initiate, using the terrain of her defender's body like a topographical map to pay dirt. Either way, evasive or confrontational, she is so quick off the floor that when she gets separation, Horn is nearly impossible to stifle.

Nike Skills June 08: Kaneisha Horn is another perimeter player who may have established claim to the power guard position. Having size, strength and a quick first step, she got to the rim again and again against the Nike invitees. Not too many slashers have her physical tools and the willingness to use them. Her ballhandling, while effective on the drive, was suspect at other times in the half court. Extending and refining her perimeter skills is going to make her a very dominant 3 at the next level and one of the top prospects in the 2010 class.

Summer 08: One of the most dynamic players in the class. She has tremendous athleticism and a knack for scoring the ball. She explodes by defenders from the wing yet is one of the best scorers you will find in the post. She has strong pivots and infinite ways to finish. Her build is more along the lines of a WNBA player than a high school player. She plays the game with a physicality and aggressiveness that few at the high school level do. Her game so far is 15-feet and in but her athleticism and agility will allow her to expand her game with work on her range.
Notes
Club Team: Alabama Roadrunners Navy-Nike

Selected to the 2010 WBCA All-American Team
Nike Skills Academy, 2008.

Recruiting update 8/3/09: announced her revised top 10 Alabama, Auburn, Duke, Florida, Florida State, Georgia, LSU, Maryland, Rutgers and UCLA.

Suffered ACL tear in late December... expected to be cleared to run in August.