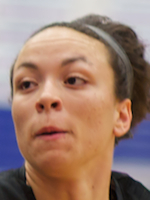 Bre Elder
Guard
CLASS: 2012
Lebanon, KY

Hometown

Marion County

High School
—

Overall Rank

45

Position Rank
ESPN Player Evaluations
Louisville Invitational-Jan. 2012: Worker, plays hard. Ok skill - energy level and hustle is her biggest asset. Will defend. Does everything little. Ok spot up shooter. One speed on the dribble drive. (Clay)

Deep South Classic-April 11: As always, the sleeper on a talented team. Elder offers up a versatile and athletic game that's a necessity on any roster. She can attack off the drive and the pull up is becoming a more consistent threat with great elevation. Being more of a long range threat can keep defenders honest and create more opportunities for her attack. On the boards and defensively she's an still an overachiever for her size and a legitimate steal in the recruiting process. (Lewis)

Raatz Fence-Jan 11: This underrated 5-foot-8 guard constantly demonstrates a high level of athleticism and an ability to be productive in a variety of roles both with her club team as well as during the academic year. She plays a very unemotional and constant game that allows her to make an impact at both ends of the floor from start to finish. Even in the loss to DuPont Manual (Louisville, Ky.), where she struggled from the field, Elder ended up attacking more off the dribble and creating opportunities for teammates, finishing the night with five assists. There seems to be some question among recruiters concerning her perimeter scoring abilities, but if you look at her form closely you won't find too many flaws that would concern a knowledgeable coach. Maybe the touch or the consistency isn't quite there yet, but all the plusses more than outweigh the time it will take to make her a consistent threat. Defensively and on the boards she competes and utilizes an impressive vertical to make up for her lack of size. (Lewis)

Pickerington North-Dec. 2010: While somewhat overshadowed, she quietly produces at both ends of the floor. Athletic, quick and aggressive, she'll attack offensively and can work well in the paint. Needs to improve her perimeter consistency and threat to keep defenders closing out tight on the catch. Defensively she can defend almost any perimeter spot and plays with a physical assertiveness. Could play a bigger role with a talented, struggling team if she embraced it. (Lewis)



Battle of the Boro-July 10: On her high school team as well as her club team, this 5-8 guard may not be the most recognizable prospect, but no smart recruiter is going to overlook her. Quick and athletic, the Lebanon, Ky., native plays with an intense effort and has the skills to make a difference in any game she plays. Her ability to put it on the floor allows her to create good looks off the drive as well as penetrate and pitch. She effectively shoots the pull-up and has the stroke to connect just as well from much deeper. Her constant motion and active play may be what challenges defensive opponents and benefits her teammates the most. Defensively she's scrappy and aggressive on ball and has sharp vision and movement on the weakside. One of Elder's stronger traits is her ability to rebound from the perimeter. On both ends she's a game influencing factor and much more talented that people think. (Lewis)

Raatz Fence-Jan. 09: Marion County may be one of the youngest varsity teams you'll come across and Bre Elder, a 5-8 combo guard, is easily one of the more versatile players in the freshmen class. She can create off the dribble and gets to the rim time and time again. Her cutting away from the ball is aggressive and gets her looks as she slashes into the paint. Once inside her ability to get off the floor is eye opening. Posting up isn't out of the question for her either and she does so eagerly. Not all of her scoring comes inside as she has a solid jumper as well.
Notes
Club Team: Kentucky Premier