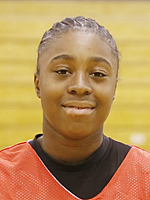 Ariel Haynes
Wing
CLASS: 2011
Chicago, IL

Hometown

Bogan

High School
94

Overall Rank

18

Position Rank
ESPN Player Evaluations
Summer Showcase-July 10: In an era of players who seem to plateau in their development, this 6-1 wing from Chicago, Ill., continues to advance her game and is finding the consistency that will serve her well on the college level. She appears physically stronger and is playing a more mature and disciplined game. She attacks aggressively off the dribble and has found a good rhythm in her pull up jumper. The elevation on her perimeter shot gets her a good look even with defenders closed out tight. The ability to finish among the bigs inside is impressive and gets her to the line on a regular basis. Haynes has the size, build, athleticism and skills to that are suited for the challenge of the college game and with continued development she could even have potential beyond.

Chicago Fall-Oct. 09: Ariel Haynes has a combination of physical and basketball skills that are going to make her commodity among college coaches before all is said and done. Though somewhat shorter than her listed 6-1, she still has good size on the perimeter and exceptional athleticism and strength that make her a challenge for any defender. Additionally, her already aggressive style of play seems to have found a new level of attack and desire for the ball. In transition or in the halfcourt she takes it to the hole like a tailback weaving through defensive linemen. Her perimeter form is there and does get her a few points but its consistency will really have to come along to keep opponents honest and closing out.

USJN Cincy-July 09: Strong, athletic guard. Left hander who has good individual skills but tends to play out of control at times. Has an explosive first step that gets her by most defenders. Good range and pull up will keep defenders honest and allow her to attack. Consistency will be critical for her to make the most of the potential that she has on the floor.

Fall 08: There aren't many 6-0 girls who are guards as high school sophomores, but that's the role Ariel Haynes (Chicago) already plays. The lefthander has three-point range, goes strong to the basket and can finish through contact. She's also a good defender and is athletic enough to defend smaller players on the perimeter. In short, Haynes is the real deal, and will become a very familiar name to college coaches %u2013 if she isn't already.

Summer 08: A lefty wing guard who physically looks more like a high school senior than a sophomore. She has a sweet shooting stroke, isn't shy about letting it fly and with her size and quickness gets the shot off easily. One of the top 2011's so far.
Notes
Club Team:Illinois X-CITEMENT