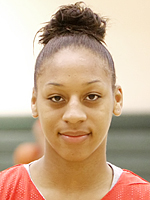 Alexis Smith
Point Guard
CLASS: 2011
West Islip, NY

Hometown

Saint John the Baptist

High School
—

Overall Rank

23

Position Rank
ESPN Player Evaluations
Blue Chip Fall Ball Classic-October '10: We continue to see a lot of size at the point-guard position but, for the most part, it appears forced. Such is not the case with Alexis Smith, however, who has done much to maintain St. John the Baptist's status as a regional power. At 5-9, she is strong as a fullback and plays like one. Not afraid to take or dish out contact, Smith is relentless at attacking the rim. She also is adept at finessing her way inside off the bounce and has nice dribble moves, including an inside-out maneuver on the dead run. She also has a nice stroke to beyond the arc, but can rush her shot at times and negatively impact accuracy. Smith could elevate herself to among the point guard elite by restraining degree of difficulty and valuing possessions more. (Nelson)

Deep South-April 10: Smith is a outstanding point guard prospect. She is strong and likes to attack the basket. She does of drawing contact and finishing in the lane. She likes to tuck the ball like a football tailback when she enters the lane against defenders. This maneuver allows her to maintain control of the ball at all times. She has a good reliable pull-up jump shot and can stick the 3-ball.

She is quicker and in better physical condition, her open floor ball handling has improve. She continues to be a very good shooter from mid-range.

Kennedy Classic-Jan. 09: Alexis Smith is one whose play makes one guess up at height. Listed at 5-7, the St. John the Baptist sophomore plays taller because she's so long-limbed and active. She is good at staying low on her dribble, but could stand developing a better speed dribble at low profile by strengthening her core as well as tightening up her handle. Smith has a nice arsenal of shots, including a difficult-to-execute floater off the dribble, and uses her left hand well. On defense, she is especially good in passing lanes because she explodes into space and makes herself bigger. Though St. John the Baptists loses Huber to Rutgers, we see them remaining a regional power because of Smith anchoring a nice corps of young players.
Notes
Club Team:Exodus NYC