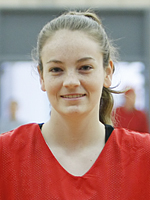 Bonnie Samuelson
Wing
CLASS: 2011
Huntington Beach, CA

Hometown

Edison

High School
61

Overall Rank

10

Position Rank
ESPN Player Evaluations
Nike TOC-Dec. 10: Her shot was on and opened up the floor for the rest of her Edison teammates. Seems to be looking to use and setting up her step back more with positive results. Got out in transition and created some of her own looks in numbers situations. Found herself posting effectively but still not going to be mistaken for power low post threat. (Lewis)

Nike Nationals-July 10: Missing that confident "knows it's in" approach to her shooting. Seems to be forcing things more often than letting her game come to her. The tools are all there and the potential still obvious, but just not playing her best basketball at the moment. Size, mobility and skills are going to let her excel at the next level in the Stanford system. (Lewis)

USA U17 Trials-June 10: Samuelson is considered one of the top shooters in the class of 2011, but the California native struggled with consistency. During one stint, Samuelson missed four consecutive shots and was rendered ineffective for most of the trials. She has to develop more offensive artillery to warrant a return to Colorado Springs for future trials. She has great height for the position, but her inability to defend and reluctance to post a smaller defender caused her to be stymied throughout. In settings such as these, it is imperative that you make yourself a dual threat and Samuelson could not find the level over the four-day trials period. (Powell)

Nike TOC-Dec. '09: Creating more and more off the dribble making her even more challenging to defend. Without a doubt one of the premier shooters nationwide. Beginning to handle the more physical play and actually initiating some of it on her own. May be one of the few players under listing her height.
Showed some creative handle and quick change of direction. Her upright posture continues to limit her handle but it has come a long way already. Catches and shoots or steps into her shot as well as anyone and she's showing progress on her step-back jumper which is in some ways attributed to her willingness to use her body to initiate contact with the defense and create space to get her shot, which still has a hitch, off. It goes in too often for anyone to mess with her form.

EBX Showcase-Oct. '09: We've watched Samuelson of Huntington Beach, Calif., so properly pop or curl off screens, hands ready to receive the ball, and move so smoothly into her shot, she's at times seemed an almost machine-like perimeter scorer. That's pretty impressive at 6-2. During our most recent viewing of the Cal Swish, Samuelson showed more of a willingness to create shots off the bounce or read her matchups and take a defender down on the blocks. Versatility is a good thing. Still, we can't help but love the sight of someone so long-limbed, and so efficient of movement, sling tightly-spinning 3-pointers with the greatest of ease.

Music City-July '09: Cal Swish wing Bonnie Samuelson has established herself pretty clearly as one of the best shooters in the country. At 6-2, she can get her shot off despite an unorthodox hitch in her delivery and they say you don't fix something that isn't broken. What is also obvious is that she has worked on other parts of her game. Her confidence to put the ball on the floor is growing. She can lift a defender with half a shot fake, but she actually showed a little creativity. When she attacked baseline going left, she did a half spin to the middle then quickly went back to the baseline and used her length to get the ball up on the glass quickly.

USA U16 Trials-May '09: One of the players with a reputation as a sharp-shooter coming in to trials was Bonnie Samuelson. The 6-2 wing-guard defenders pay when they didn't close out, but with so much athleticism and length on the floor she didn't get as many open shots as she's used to. Samuelson's not a player who creates a lot of shots for herself off the dribble and in this setting it hurt her. However, she did show improvement from last year in getting to the basket on dribble drives. As she gets more confident in that regard, she will find defenses playing her straight up more often.

TOC Dec. '08: Long range and lethal shooter and just a sophomore. Even though she twists her body on her shot she is a high percentage threat who's only going to get better and better. At this point she still is very lean and lacking in some physical strength, but not out of line with someone her age. Her perimeter skills and basketball intelligence are impressive. Though she may be an offensive focus herself, she reads defenses well and gets the ball where it needs to go when the attention comes her way. Defense and rebounding are solid and will become even more effective as she matures.

Nike Skills May 08: Bonnie Samuelson can cover a lot of ground with her stride and bother a lot of people defensively with her length. Her strength and aggression aren't quite caught up with some of the older kids, but that can be expected from a freshman. She showed some range on her jumper as well. She is definitely a kid to keep an eye on. She must have been aggressive when she scored 33 points against Irvine to open her freshman season.
Notes
Club Team: Cal Swish

Fourth team Parade All-American, 2010 ... First team all-state, 2010