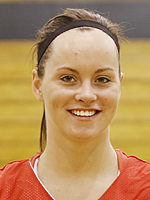 Kayla Hirt
Forward
CLASS: 2011
Bemidji, MN

Hometown

Bemidji

High School
74

Overall Rank

20

Position Rank
ESPN Player Evaluations
Nike Nationals-July 10: Continued the steady play that always seems to come from her. The perimeter skills she has gives her the opportunity to create against a lot of less mobile forward match ups. She's more aggressive in her attack and seems to reading defenders more efficiently. You still find yourself wanting more from the 15-foot range at times and the potential appears to be there. Aggressive and effective on the boards. (Lewis)

Boo Williams-April 10: Impressive combination of size and versatility. She has the ability to put the ball on the floor and create as well as go inside and work effectively. Her active efforts at the offensive end keep defenders busy and make her a threat with and without the ball. She's got good mobility and can run the floor on the break. Strength development will be critical as she moves on to the next level.

Nike Regional Skills-May 09: Kayla Hirt is a coaches dream, but the 6-2 forward has already committed to Pam Borton and the home state Gophers of Minnesota. There is no chance of outworking this kid in drills or game play; if you can keep up with her you're doing just fine. The Bemidji High School star has a great basketball body and her aggressive style of play and athleticism make her a handful. She has great lift and her strength allows her to explode through contact in the lane. She takes instruction well and isn't afraid of failing at new skills. She is a forward now but is one prospect that could really play the wing as well. She has the vision and passing skills with improving ballhandling to play away from the basket. The biggest area for improvement is her perimeter shooting. Her guide hand is too active and she doesn't get full extension with her shooting hand, which leads to inconsistent results. Her lower body and strength allow her to create nice looks off of pull-ups, so focusing in on her shooting mechanics is the key.
Notes
Club Team: North Tartan