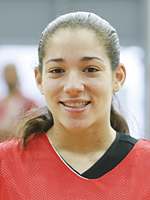 Jordan Adams
Guard
CLASS: 2012
Irvine, CA

Hometown

Mater Dei

High School
7

Overall Rank

2

Position Rank
ESPN Player Evaluations
WCP Spring-May. 11: Bigtime size at the point. Doesn't look to score. See her as a next level facilitator i.e. Morgan Jones (FL-11). Likes to pass the ball, set the tempo. Smooth, right-handed shooting stroke when she does pull. (Clay)

Nike TOC-Dec. 10: Any time that you go to the gym it's exciting to see advancement in the games of talented athletes. When you can see big steps taken by an elite athlete, well, that's something special. Adams' defensive performance in Monday's quarterfinal matchup with Monarch (Louisville, Colo.) was one of the most impressive efforts seen in club or high school ball in quite some time. Make no mistake, the 6-0 guard is already an exceptional defender. You don't play for a Kevin Kiernan-coached team and not excel at shutting down your opponent's offensive attack. What the fifth-ranked player in the ESPNU HoopGurlz Super 60 did was defend aggressively on the ball, close traps that forced multiple turnovers, anticipate off the ball like an All-Pro free safety and come up with more tips than a waiter in a first class restaurant.

The intensity level that Adams plays with at both ends of the floor virtually defines the word attack and puts her and her Mater Dei teammates in a position to create offense with their defense. Even on the bench she was still actively communicating with her teammates on the floor and offering defensive insight and direction against inbounds plays. The willingness to embrace and commit to limiting her opponents offensive options easily gives her one of the most versatile and well-rounded games among the top players in the 2012 class. It also gives the opposition an enormous headache.

Nike Nationals-July 10: Adams came back from USA Basketball and showed few effects from the overseas travel. Her usual multifaceted game was on display and she continued to make plays from both the point and the off guard spot. What stood out in Augusta was an improved and focused off ball effort. Her use of screen and impressive defensive reads were more than efficient in getting her good looks at the rim. She got out in transition with and without the ball and made good choices. Defensively she plays a smart and aggressive game on the ball and may anticipate off the ball as well as anyone. The shot consistency is coming. (Lewis)

FIBA U17-July 10: Returning for her second stint as a member of the USA national team, the 6-1 guard started the tournament a bit gun shy. As the tournament wore on she began to play more like the attacking, slashing player we are used to in the States. The faster the tempo, the bigger impact Adams made. As she continues to develop her game, confidence in her perimeter shooting should really boost her game. She has adequate form and so much lift that she should have no problem improving. The athleticism is there, the feel for the game is there, the confidence just needs to catch back up and perhaps another national championship at Mater Dei would deliver that confidence. (Hansen)

USA U17 Trials-June 10: Jordan Adams is too good of an athlete with size and grace to be left off any national level team. And the 6-0 guard showed early and often that she would be living up to the physical attributes with her play. She rebounds the ball from the wing, she can slide over and play the point and she can guard all three perimeter positions. She always is looking to get her team in transition, whether that be sprinting the lanes or hoisting a 60-foot baseball pass to a streaking teammate. Adams did struggle at the point against smaller, quicker guards and her play did regress during those occasions. (Powell)

WCP Spring Invitational-May '10: The much acclaimed and celebrated 6-0 combo guard from Mater Dei High School is a rare player and right now she is trying to expand on her relentless rim-attacking offensive repertoire with a perimeter shooting game. She has shown she can knock down the 3-ball but is now looking for the shot more. One of the most impressive shots of the tournament was actually an Adams miss, with her team trailing by two late in the championship game and a DFW defender all over her -- she jabbed from the left corner, used a strong dribble to create a bit of space and rose for a 3-pointer that went halfway down before bouncing out of the cylinder. It takes ability to get that shot off and a growing confidence to even attempt it with the game on the line. (Hansen)

Nike Skills-May '10: Her change of speed and change of direction are making her an even more difficult match up for defenders than in the past. She's more aggressive in her attack and has been creating more opportunities rather than just taking the ones that come her way. There's a more mature presence in her game and a confidence that shows in her command of the floor. The slight forward motion in her perimeter shot still lends to some inconsistency. The best players are always reaching for the next level and she's taken another step this spring.

Nike TOC-Dec. '09: Without a doubt one of the more skilled players in the 2012 class. At the same time the TOC wasn't one of her better performances. Normally a heady ballhandler and decision maker, she struggled with some pressure and even had a few coaches in the college section wondering aloud if she weren't more suited for the 2-guard spot. Still, her combination of size and skills makes her a commodity. Keeping in mind that she's still got two and half more seasons of high school ball in front of her, her skills and potential only stand to increase and the line of recruiters isn't going to get any shorter.

She encompasses that rare combination of both elite skill and size at the guard position. However, Adams, who started the tournament cool as a cucumber, had moments to the contrary. Those moments included witnessing what seemed to be the cool Adams shrinking under intense ball pressure, or taking shots that seem to be some what forced and not within the flow of the game. The good news, these moments were the exception and not the rule. The critiques come with the sky-high expectations having seen her play near flawless against some of the best in the country in prior events.

Spring Fling-May '09: Jordan Adams still was in the eighth grade when we first spied her at a Nike Regional Skills Academy. That was a whole year ago. She's now a freshman at Mater Dei in Santa Ana, Calif., and already a much, much different player. If Harberts was the best player at Spring Fling, Adams was most valuable. Counted upon to be the feature of West Coast Premier's offense, the youngster embraced the role showing, at a long, explosive 5-11, an ability to be isolated and take defenders off the dribble, ending the encounters in acrobatic layups or pull-up jump shots. While this ability can be almost irritatingly pervasive among boys, it is relatively rare on the girl's side, giving the few teams that have such a player a huge advantage during tight, highly-competitive matchups. Adams can peg herself as a star-quality, point-guard prospect if she retains her swagger and smoothly re-engages at Mater Dei with Kaleena Mosqueda-Lewis and Alexyz Vaioletama, a pair of elder (by one year), big-time scorers.

USA U16 Trials-May '09: One of three Mater Dei High School (Santa Ana, Calif.) players selected to the national team, Jordan Adams, played at a high level in each and every session. While usually at the point, she showed the versatility to be an impact player anywhere on the perimeter. She shot the ball as well from the perimeter, but what makes her so valuable is her ability to create a good shot off the dribble when the 24-second shot clock is running down. She was easily one of the most consistent players at the trials.

Nike Skills-May '09: Not many freshmen are returning players to this event, but Jordan Adams is. The 5-11 point guard has all the physical tools and ability needed to be a modern point guard. She is no stranger to the big stage, playing for one of the top high school teams in the country in Mater Dei. She can score by shooting, off dribble penetration or at the stripe and she is also growing as a passer. She has a knack for elevating into the heart of the defense and using her length the keep the ball away from the help defense to get her finger roll up on the glass. As she continues to get stronger, she is going to find herself scoring a lot of and-one's. When she attacks, she has some Caroline Doty-esque moments. As a playmaker, she is starting to see the game a step ahead by seeing passing lanes before they open and dropping dimes accordingly. The rising young point guard will need to emerge as leader on the floor, but overall she is well ahead of the curve.

Boo Williams-April '09: If you're going to list all the qualities you look for in a point guard, size is the one that often gets pushed down the list. When you find an athlete like the West Coast Premier's Jordan Adams who gives you both the basketball and the physical skills, you've got something special. Adams has spent the past year establishing herself as one of the top point guards in the 2012 class and she's well on her way to doing the same among all the classes. She has the ability to create off the dribble, but also sees the floor exceptionally well to set up her teammates in impressive fashion with her passing. Her shot is effective from deep or on the pull-up with penetration. Making the players around you better is the hallmark of any point guard and Adams has that base covered.

TOC Dec. '08 II: Tremendous size and skills at a young age make this point guard elite within the 2012 class. She already plays smart and instinctual basketball and is comfortable on the point or at the off-guard spot as well. Her ability to create options and read the best decisions at such a young age are impressive. She has the ability to score herself as well and does so from the perimeter as well as on the drive. Probably most impressive is the confidence she plays with which is well beyond her freshman status. Like all athletes in the Mater Dei uniform, she can and will defend with the best of them.

TOC Dec. '08 I: When you look at Mater Dei (Santa Ana, Calif.) and their success there are some impressive numbers to look at. The most impressive may not be on the score sheet but on the roster. When you see the graduation date of 2011 for scoring machine Kaleena Mosqueda-Lewis, it raises your eyebrows. When you see 2012 for point guard Jordan Adams your jaw almost drops. At 6-feet, she already has the size and physical build of an upperclassman. There's nothing young or immature about her skill set either. Her ballhandling and passing skills combine with an advanced basketball intelligence to make her a threat against any opponent. Her ability to create with the ball in her hands, read the defense and see her options is exceptional for any age. Even without the ball, she's active and cuts aggressively forcing defenses to shift and adjust. On the defensive end she' aggressive and relentless, but then what Kevin Kiernan coached player isn't? Watching Adams play you see a maturity and confidence that rare and hard to find at any age.

Nike Skills May '08: Jordan Adams was the youngest participant in the camp and she played well once she got some confidence going. When paired up with other youngsters in drill work, the comfort level must have come for Adams because she really started pushing herself. She has a nice midrange shot and can shoot it off the dribble.
Notes
Club Team: West Coast Premier

USA Basketball U17 World Championships Team, 2010. ... USA Basketball U16 National Team Member, 2009. ... Nike Regional Skills Academy, 2008, 2009.

As of August 2010, Connecticut and Duke are also on her short list of schools.