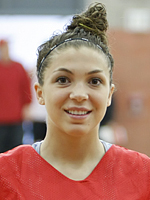 Carlie Needles
Point Guard
CLASS: 2011
Parker, CO

Hometown

ThunderRidge

High School
—

Overall Rank

31

Position Rank
ESPN Player Evaluations
Nike TOC-Dec. 09: Carlie Needles is not an unknown on the recruiting radars of college coaches and they're watching closely to figure out just where she falls in the point guard pecking order. Though she missed the majority of the TOC with an injury, a lot of folks got a good look at her in the first round match up with Mt. Lebanon. Her ballhandling skills are more than sound and effective at getting through pressure and creating shots and passes. However, there is a considerable tendency to over dribble and utilize it as a relief from aggressive on ball pressure. She makes good decisions with the ball and pushes it at opportunity. The question coming from several recruiters on coaches row was whether or not she can handle the ultra athleticism of defenders at the highest level. She's got a big time future in front of her and this summer may just determine how big.

Nike Skills-May '10: Carlie Needles of Parker, Colo., was one of a handful of returnees to the Skills Academy, but she was the only one to bring a notebook with her right from the beginning of the event -- a point made to the players last year at the event. While this doesn't put the ball in the basket directly, it articulates one important point, this kid gets it. Like Boykins, she has all of the intangibles -- focus, work ethic and willingness to step outside of her comfort zone and get better. She is a classic point guard who can run a team, find the hot hand, distribute the ball, knock down open shots and create enough to keep the defense honest. This setting and level of competition allowed her to work on an area she needs to continue to improve on: protecting the basketball against elite defenders. She got ripped a couple of times by some guards willing to go for the risky steal by reaching. While she was probably fuming, she went right back at it the next possession.

AZ Elite Spring Classic-April 09: Some point guards show better when they are surrounded by scorers, while others excel as scoring point guards. For Colorado Hoopsters point guard Carlie Needles she is fantastic when surrounded by players who can finish. She is rock solid with the ball, makes good decisions, distributes the ball and because she gets everyone else involved it makes her offensive scoring abilities that much more effective. The Parker, Colo. native needs to be a little more downhill coming out of her change-of-direction moves because she makes some nice crossover moves, but allows good defenders to recover at times.

TOC Dec. 08: A young and talented point guard, Needles is "one to watch". Sound but not exceptional athleticism is offset by fundamental skills and court instincts. She attacks effectively both in transition and in the half court with the ball in her hands, but does occasionally catch herself standing without it. Her exceptional skills are highlighted even more by her vision on the floor and ability to read defenses.

Summer 08: Carlie Needles is a 5-7 point guard with the Colorado Hoopsters Black and one of the more talented players to emerge so far in the 2011 class. Her ball handling and passing skills are exceptional and on par with a much more experienced player. While outstanding in the half court, she seems to be even more at home in transition making quick and decisive reads leading to easy scores. She also has the range to force defenders to come out thus allowing her the chance to create a better look or improve passing angles. She also shows some of the same instinctual play on the defensive end of the floor.

Nike Skills May 08: Carlie Needles first impressed me at the Nike Tournament of Champions in December. She picked up where she left off here at the skills academy. She works hard and gets after it constantly. She has a great base of fundamentals and appeared to pick up on a lot of new concepts. The competition level was great for her; Needles was constantly pitted against bigger, stronger and sometimes quicker players. She made mistakes and learned from them without getting down on herself, which is exactly what a freshman needs in this setting. She's just scratching the surface of her abilities. She sees the floor well and has a very nice jumper. High School December 08: Luckily for us we not only got to see Carlie Needles twice in Phoenix but we saw her against top seniors in Nikki Speed and Casey Morris on back to back days. For more info on these matchups see Changing of the Guard from earlier this week.

One of the things you notice early on in watching Needles is she is fundamentally sound and confident on the floor despite her youth. She can play the game full speed and still be under control. She handles double teams well, creating space and making strong passes. She is one of the few people I saw at the tournament use a reverse step on her crossover to create space and beat the double team to the middle of the court. She showed great court vision and the decision making ability to know when she could and couldn't get the ball to the next spot.

Needles can shoot the ball out to three-point range. Her jumper is college ready as it is fluid, with a high release and extremely quick. She gets her feet set quickly and gets the ball up right away. Her shooting setup and motion is efficient and she showed she could get it off with defense closing out on her. She shot the ball very well against Speed and in their third game she was face guarded and didn't convert at the same percentage. She was able to create some shooting opportunities and pulled the trigger but was off just a tiny bit. Needless to say you can tell she's a capable and consistent shooter.

She did a great job against Speed with dribble penetration. She attacked both right and left and got to the cup, drew fouls and found teammates on kick outs. The only problem is that she could have controlled the tempo in the second and third quarters as well and maybe ThunderRidge beats Marlborough.

Defensively Needles is very aggressive. She loves to crowd the ball handler and make their life miserable. She did a good job of maintaining her defensive spacing and applying pressure without giving up easy dribble penetration. In the second game a shiftier ball handler exploited her aggressive style of play. She tried to play a longer and shiftier player too close and gave up some dribble penetration. When she got beat she didn't give up, she worked hard to recover. The other area for improvment is when her player passes the ball she stays to high in the passing lane. She jumps in the direction of the ball but her aggressive nature puts too much emphasis on denying a return pass and opens her up to back door cuts against players quicker than she is.

Needles recognizes her weaknesses and will even point them out. Given her solid fundametal base, toughness on both ends of the floor and basketball IQ she appears to the next D-1 guard to bring attention to ThunderRidge High School.
Notes
Club Team: Cal Storm Team Taurasi