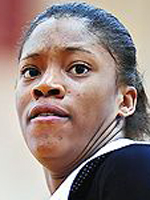 Briyona Canty
Guard
CLASS: 2011
Willingboro, NJ

Hometown

Trenton Catholic Academy

High School
6

Overall Rank

1

Position Rank
ESPN Player Evaluations
USJN DC-July 10: Gifted players are spotted easily during competition. Canty, widely regarded as the most explosive guard in the class of 2011 and rated the No. 9 prospect by ESPN HoopGurlz, may arguably have had her best performance during the USJN tournament in leading her Gauchos to the finals. The most noticeable trait of Canty's game is her athleticism and her ability to change directions at a high rate of speed is blinding. We have questioned her ability to finish plays, as her execution of million-dollar moves were concluded with five-cent finishes. This was not the case during the Gauchos' unexpected run to the title game in one of the most competitive tournaments of the summer. The 5-9 guard has qualities and similarities to current NBA star Derrick Rose with similar explosive abilities in the open court and at the rim. If Canty's recent play proves to be what we can expect every game, then her college suitors can expect increases in attendance.

Hard to imagine but Canty may well have stepped up her game to a new level. She's finishing with greater consistency and seems to have found a new explosiveness to her halfcourt moves. She's using both hands with equal effectiveness and her change of direction is leaving defenders in their tracks more than ever. The jumper is till inconsistent but when she's on, she's hard to stop. (Lewis)

Battle For The Boro-July 10: Bad news for opponents, Canty is starting to capitalize on her penetration and finishing more effectively. The speed at which she plays and the attacking approach she maintains makes her one of the most lethal offensive threats in the 2011 class. From both makes and misses she's pushing the ball and putting defenders on their heels. Slow reacting defenders end up sending her to the line multiple times per game. All the shots aren't dropping yet and the consistency on the pull up and jumper still need to evolve, but lid is off. (Lewis)

USA U17 Trials-June 10: Fortunately or unfortunately, the addition of the Youth Olympic Games gave the 5-foot-8 New Jersey native an option that better fits her game. Her athleticism and ability to create are going to be even more lethal with two fewer defenders on the floor, and with the 10-second shot clock in the 3-on-3 format, her explosive first step will come in handy. Controlled 5-on-5 situations during the trials seemed to throw her game off. With a crowded lane and length all over the floor, her attacking style led to over-penetration and turnovers. (Hansen)

Midwest Showdown-May 10: Canty continues to play the game at a different pace than those around her. While logic may say it's best for the 5-9 Gaucho's guard to slow it down a bit she might then be sacrificing something that sets her apart from other perimeter threats. The development and refinement of her skills at full speed has led to some interesting and creative turnovers at times, but in the end the velocity of her attack might be worth maintaining. Her choices are generally good with the ball and she sees the floor as she pushes it. The defensive rotations that she causes on penetration or in transition are often more than a step slow and less than effective. The bigger problem isn't taking care of the ball; it's exploiting the looks she creates. More than one easy look has rolled off the rim on her in a couple of events this spring. Her perimeter touch seems to be evolving as she was able to connect on several pull-ups as well as a couple of spot up jumpers this weekend. She's already keeps defenders up at night, a higher shooting percentage would give them nightmares. (Lewis)

Nike Skills, New Jersey - May 2010: She has so much to work with, including length, speed galore and the ability to explode off the floor. She has a love for blocking shots, which can be a blessing and occasional curse, since she will leave the floor to make a statement. Speaking of making statements, she could be much more effective playing a little more straight up and not being so concerned about the wow factor. The game sometimes seems to come too easily and she ups the degree of difficulty or, worse, maybe shift into cruise control. When Canty keeps the motor running, she's as spectacular a performer as there is in the class. (Nelson)

Boo Williams-April 10: May still be the point guard who can play under control at the fastest pace. It does lead to a turnover or two but the tradeoffs may well be worth it. Her penetration comes both in halfcourt sets as well as on transition. This event would have found her with considerably more assists with some better finishing from her teammates. She'll still need to establish herself as a legitimate and consistent perimeter shooting threat to make the most of her game and exploit her potential.

USA U16 Trials-May 09: Physically, Trenton Catholic Academy (N.J.) guard Briyona Canty is one of the most impressive players you will find in the 2011 class. She has a pro-ready body and plays a physical brand of basketball. When she's on the court, you notice. If she gets even a half-step on her defender, she can get all the way to the basket. She is a truly explosive player that plays much bigger than 5-9. If she can cut down on the turnovers and hit the long-range jumper consistently, she could catapult to the top of the class in terms of guards and make a serious case for future USA teams.

Boo Williams-April 09: Briyona Canty of Philly Triple Threat has superstar potential and a skill set that is very unique to the girl's game. The speed at which she plays and the control she has with the ball is nothing short of amazing. She is a player that you never want to take your eyes off of on the court because she is going to put on a show. Whether it is a stop-and-pop jumper or a thread-the-needle pass to an open teammate, the 5-9 sophomore from Willingboro, N.J. can attack a defense in so many ways. She is also a very tough defender and from the perimeter she as the ability to block or alter jump shots.
Notes
Recruiting update August 18, 2010: Has received offers from South Carolina, Rutgers, Penn State, Tennessee, Virginia, Kentucky and Pitt ... has not made a short list yet.

Club Team: NYC Gauchos. Canty formerly played with Philly Triple Threat.

USA Basketball Youth Olympic Games member, 2010 ... First-team All-state, 2010 ... USA Basketball U16 Trials Invitee, 2009.