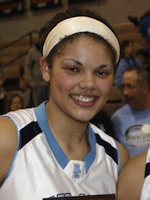 Sydney Moss
Guard
CLASS: 2012
Union, KY

Hometown

Boone County

High School
50

Overall Rank

18

Position Rank
ESPN Player Evaluations
Battle in the Boro-July 11: Becoming the poster child for the "power guard" position. Constantly on the attack with and without the ball. Very focused in her efforts at both ends of the floor and has no problem putting the effort out there from tip to buzzer. Scores effectively in the halfcourt but makes herself a factor in transition as well. The ballhandling is coming along and she more than willing to use it create looks and passes. Defending aggressively on the ball and anticipating well from the weakside of the floor. Impressive rebounder from the perimeter. (Lewis)

Deep South Classic-April 10: Moss is a very interesting prospect as she combines a unique blend of power forward and point guard skills. She a really strong athlete with very deceptive and deceiving athleticism. It's kind of" freakish" for someone her size. Moves well for her size.

She is making the transition to playing on the perimeter. She uses her size well to drive to the basket and showed a nice floater. She is a good decision maker, however, her ball handling could use improvement.
Notes

Club Team: Kentucky Premier

ESPN HoopGurlz Tip Sheet Mentions:
• Deep South--April 2011