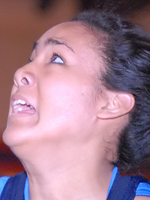 Karina Alofaituli
Wing
CLASS: 2011
Newbury Park, CA

Hometown

Mater Dei

High School
26

Overall Rank

4

Position Rank
ESPN Player Evaluations
Nike TOC-Dec. 10: If potential and reality ever meet her already bright future could be even brighter. Her strength and power are difficult for almost any defender to handle and she's active, aggressive and purposeful in her movement. At the same time her actual production was not where she nor her coaches would want it to be. She struggled to finish in and around the rim with any consistency though the looks she created and received were solid opportunities. Defensively and on the boards she's more than effective and applies her physical approach efficiently. At her best she's on par with the top tier of the class. (Lewis)

Nike Nationals-July 10: Did not play the whole event but was impressive when she did. Strength and explosiveness combine with some solid skills and attacking approaches. Well suited for the next level and demonstrating a mature confidence in her play. (Lewis)

Nike Skills-May '10: Strong and explosive power guard. Has a short and mid range game that makes her a tough match up for any opposing perimeter player. Plays with a strength and maturity you don't often see at the high school level. Off the dribble she's a threat for both the shot and the pass. Sees the floor effectively and simply makes plays. Though she's a perimeter player, she has every aspect of an inside game that any coach could want. May well be the true sleeper of the 2011 class.

Boo Williams-April 10: Ultra strong and effective. Has the ability to post up or attack off the dribble. Likes the fall away in traffic but has a good stroke with some range as well. The ballhandling gets her to the rim and the explosiveness gets her by most defenders.

adidas Spring Classic-April 09: If you covet athleticism, then you need to see FBC's Karina Alofaituli. She has a great basketball body with strong shoulders and a strong lower body, which fuels her attacking style of play. She loves contact and isn't afraid to catch an elbow or two to get to a loose ball or rebound. She elevates well off one foot or two. She possesses strong change-of-direction moves and once she beats a defender she attacks their body to continue the punishment.

Summer 08: Karina Alofaituli, a 6-footer out of Newbury Park, Calif., is one of those players who just makes plays. She has solid and strong build and isn't afraid to play physically on offense or defense. Her skills are textbook fundamentally and she can create her own opportunities. She'll also keep her FBC teammates and coaches happy with her aggressive and strong rebounding effort. Her play isn't flashy, but very noticeable by any recruiter looking for someone to produce results.
Notes
Club Team: FBC

Initially signed with Arizona State but decided to go to USC before enrolling. Was not released from her NLI so she will sit the 2011-2012 season and have three years of eligibility.