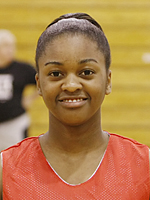 Whitney Holloway
Point Guard
CLASS: 2011
Plainfield, IL

Hometown

Montini Catholic

High School
—

Overall Rank

25

Position Rank
ESPN Player Evaluations
Nike Skills-May '10: Holloway has a very small frame and good, not great speed. At 5-4, she actually plays smaller which is not a good thing. She is a good ball-handling guard, but her playing making skills are limited. Compact guard with some defensive pressure ability.

Music City-July 09: Whitney Holloway has nothing to prove on the summer circuit. She has already committed to Notre Dame, but the 5-4 point guard doesn't play for herself anyways. Despite her ability to create and get to the rim, she usually defers to her teammates. She took advantage of defenses that face-guarded her team's shooters by using her quickness to get to the basket and finish. She needs to improve her 3-point shooting and more than anything, assert her will in the game because she can collapse defenses with ease.

Midwest Showdown-May 09: Whitney Holloway of Montini Catholic High School has that extra gear that few point guards possess. She is fast with the ball and can hit the afterburner switch to get easy buckets in transition. She has good control with the ball as well and changes speeds very effectively. She also knocks down open jumpers to keep the defense honest. However, she could improve her ability to finish in traffic. It is an art to try and finish with all the help collapsing on you and she's shown she's capable of making those tough shots, but she could finish those shots more consistently.

Summer 08: Five-foot-four point guard Whitney Holloway of the Full Package Lady Lightning Elite Platinum plays for the right team. Lightning is virtually the only adjective appropriate for the way that she plays. Her ability to penetrate was a key for her and her teammates as they reached the semi finals in Memphis. No matter whom the defender was she seemed to get by them with ease and find her way to the rim. The results were usually the same, a hoop or an assist or even a trip to the line. While she may be young and small, she's a very skilled and very tough athlete.
Notes
Club Team: Full Package Lady Lightning Platinum