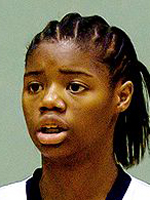 Courtney Williams
Wing
CLASS: 2012
Houston, TX

Hometown

North Shore

High School
10

Overall Rank

1

Position Rank
ESPN Player Evaluations
Strengths: Versatility -- can play four positions, matchup nightmare, finishing in traffic
Areas to improve: Consistency of intensity, shot selection
Bottom Line: Prospects like Williams don%u2019t come around every day. At 6 feet 1, she has the size of a college four but the skill of a perimeter player. She can make plays for herself and others and at this point in her development she has tremendous upside as a prospect on the college level. If Williams buys into using her gifts on the defensive side of the ball and continues to polish her ability to score the ball in the half court, lookout.

Deep South Classic-April 11: At her best she leaves little doubt that she can line up with the best of them. Her ability to create and attack with the added asset of her size makes her a challenging match up for any opposition. Her individual moves combine with a first step that will get her by quicker and smaller defenders. The stroke and form are there and they're equally effective spotting up or off the pull up. On the defensive end her size can be an issue for any match up and she has the lateral speed to contain ballhandlers. Not many players define versatility the way she does. Still looking for some more consistency from tip to buzzer but the folks in College Station will see to that. (Lewis)

Nike Summer Showcase-July. 10: Williams is showing a resurgence in her game and recapturing a lot of the excitement that surrounded her at an early age. The combination of size, athleticism and skills makes her one of the most dominant players in the class when she's at her best. She can use her size to exploit smaller defenders effectively but at the same time call on her skills to make bigger defenders regret the match up. While her play is really showing the promise that recruiters saw at an early age the consistency will have to come to keep her future coaches at Texas A&M happy. (Lewis)

adidas-July 10: Excellent combination of basketball skill and natural ability at the guard position. Even though she can play the point, she really shines has a 2 guard. She can score in bunches because she understands how to exploit matches. (Bodine)

USA U16 Trials-May 09: One of four Texans invited to the trials, Courtney Williams, was the tallest of the point guard crop. The Houston native was a bit of a slow starter as well and had some good sessions late in the trials. She showed a smooth and fluid mid-range, pull-up jumper. She had trouble getting into the lane to create those shots with all the size on the court. Being tall, it is even more important for her to stay compact, strong and explosive on dribble penetration, so the reaching help defense doesn't derail her attacks to the basket.

Basketball on the Bayou 2010: The idea of giant point guards is appealing and, apparently, the Houston Elite has such plans for Courtney Williams, a 6-footer who acquitted herself well at the USA Basketball U16 trials. Williams plays a little erect with the ball and makes the kind of plays that taller point guards can make, but it comes at the price of traditional, penetrate-and-pitch setups and rim attacks. With her size, athleticism and skill set, Williams seems to be a player a team would want to get the ball in areas from which she can do damage on her own. Her shot is good enough, and she likely would be more effective attacking defenders her size, whom she could out-quick, rather than smaller, quicker defenders who can impede her path. (Nelson)

adidas Spring Classic-April 09: In the modern game, a point guard with good size is anywhere from 5-8 to 5-10. So how excited are recruiters to see 6-foot Courtney Williams running the point for Houston Elite? Ecstatic may be the accurate description. Her ground-breaking size doesn't stop with height because this youngster has a college-ready frame already. What's most impressive about this Houstonian is that her size doesn't go to waste. She wastes no time bodying up a smaller defender and has no problem walking an overmatched defender all the way down to the paint to score it. She has some shake to her handle and good quickness, which is scary given her size and physicality. She's going to need to prove herself from the 3-point arc and cut down on the turnovers, but nobody is going to pass on this kid.

Summer 08: Courtney Williams of Houston, Texas, was one of the events real eye openers. She has size and athleticism on the wing, but her advanced skills are really what had the college coaches talking. With the ball in her hands she penetrates and creates almost at will. She got to the line several times demonstrating an ability force defenses to rotate to contain her attack. Listed at 5-11, she seems to be even taller and has a build to suggest she may still have some growing to do. Good news for her, bad news for opposing defenders. This young Houston Elite standout has something special going on at a young age. Keep watching.
Notes
Club Team: Houston Elite