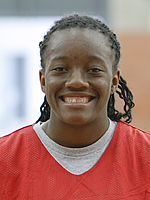 Taylor Spears
Guard
CLASS: 2012
Fullerton, CA

Hometown

Brea Olinda

High School
—

Overall Rank

59

Position Rank
ESPN Player Evaluations
Nike Nationals-July 10: Tough physical player with nice range on her jumper. She has a quick release and understands how to create space to get her shot off. (Bodine)

Nike Skills-May '10: Guard with lots of tools and potential. The question might be whether or not she's hit a plateau in her progress. She's still a strong and attacking guard who has a lot of dominant moments on the floor. Her ability to score in traffic is solid but the forward motion on her jumper makes it erratic at times. Defensively, when she puts her mind to it, she can dig in and get a stop on almost any match up, but it doesn't happen every possession. The reality now is finding out if she can take her game to another level and make the most of the promise she's shown.

Nike TOC-Dec. '09: It's hard to stand out when you play along side Jordan Adams and Kaleena Mosqueda-Lewis. Yet Taylor Spears found a way at the TOC to do just that. She is a major contributor with her aggressive offensive presence looking to cross you up and get to the rim. She can undoubtedly score, and use her strength to bully her defender to create scoring opportunities. The 5-9 sophomore compliments her teammates well, but could easily headline if needed. Stayed tuned for the Taylor Spears show.

Nike Skills-May '09: Mater Dei wing Taylor Spears needs to have her shoes checked for springs. This perimeter player is explosive and her ability to block the shots of unsuspecting players catches your attention quickly. The great thing about it is she has the timing and raw leaping ability to swat shots on her own defensive assignment or sliding over from the weak side. She is also a relentless player offensively who will attack the basket in transition at every opportunity. She had some issues finishing on the second day in the short scrimmage play, but getting down on herself may have led to a few of the misses. Keep an eye on this kid because she is another that is sometimes overshadowed by the wealth of talent on her high school team.
Summer '08:
Taylor Spears, a 5-9 guard from Fullerton, Calif. has a wide variety of skills to make her a major prospect as a scoring guard. Her athleticism and very solid strength allow her to create offensively with the ball in her hands. Tremendous one-on-one skills are highlighted by a lethal crossover that defenders struggle to stay in front of. Her jumper is still a question mark, but she didn't need to take many with her persistent penetration. The young FBC prospect has the potential to take her game to any level that she wants.
Notes
Transferred from Mater Dei to Brea Olinda in the middle of her sophomore year. She was not eligible to play at Brea Olinda in 2010.