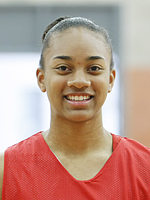 Alexyz Vaioletama
Forward
CLASS: 2011
Fountain Valley, CA

Hometown

Mater Dei

High School
14

Overall Rank

6

Position Rank
ESPN Player Evaluations
Nike TOC-Dec. 10: If recovery is an on going process, then Vaioletama is taking full advantage of rehabilitation. She's not only finally gotten back to where she might have been, she's surpassed and advanced her skills to new levels. She plays physical and strong and isn't shy about mixing things up in the paint. Her play in tight is effective but she has the ability to be effective from the elbows or on the perimeter in a four out. She can start the break or finish it by getting out and running with the guards. Effort is never an issue and the best is yet to come. (Lewis)

USA U17 Trials-June 10: A lot of players entered the trials with a chip on their shoulders and even more feeling as though they had "something to prove." One such player who may have carried both monikers was Vaiolatama. Case in point, Vaiolatama was a returning member of last year's U16 team, but she was also returning from an injury that sidelined her for the entire high school season. The 6-1 forward uses her decided size advantage to muscle past the weaker defenders and stayed in the action on the offensive glass. Her aggressive nature can cause many problems for the sometime passive on-lookers as she scored and rebounded over any supposed opportunist looking to capture a spot on the U17 squad. A lefty slasher, She has a good feel for the game and passes well in and out of the post area. Her jump shot could use a lot of work, but she is not afraid to take those shots if the defense relaxes. A solid 15-foot pull up jump shot can also be located in the game of Vaioletama. (Powell)

Nike Skills-May '10: Knocking the rust off and showing the potential she has in the past. Leaner, physically stronger and more cut, she's playing an aggressive and attacking game at both ends of the floor. She has the ability to work at the small forward spot and still teases with the potential to move to the wing down the road. There's a maturity and confidence to her game that makes her well suited for the college game and beyond.

USA U16 Trials-May 09: Everyone overlooks Alexyz Vaioletama because she has Mosqueda-Lewis and Jordan Adams on her high school team. She also now has them as teammates on the U16 team. The 6-1 forward from Fountain Valley, Calif., is a great athlete who can defend both wings and forwards. On the floor, she rebounds with the bigs and showed in spots that she can explode past the defense and finish at the rim. She shot the ball out to 16 feet, but isn't a player that will make the switch to the wing. She plays within herself and will fit in with the team whether they ask her to play five or 25 minutes per game.

Deep South Classic-April 09: Uncoupled from her more heralded Mater Dei teammates, Kaleena Mosqueda-Lewis and Jordan Adams, Vaioletama mounted a scathing campaign for a spot among the 2011 elites. Mission accomplished, with us and the college coaches, many of whom witnessed her being more than the army of bigger Exodus NYC defenders could handle. The ultra-athletic lefty is super tough in the lane, from which she cannot be dislodged and, allowed to receive the ball, can get off the floor quicker than most and take contact before making deposits with soft, sure hands. The whole package makes Vaioletama a force at the defensive end and around the glass as well. If she shows a smidge more handle and range by the end of summer, she will demand a spot near the very top of the class.

TOC Dec. 08 II: This strong and athletic left hander has lots of tools that might go unnoticed on such a talented high school team. They won't go unnoticed by college recruiters. Her aggressive approach to every aspect of the game makes her force on the floor. She is relentless on the glass and, of course, is a workhorse defensively. She's active at the offensive end and moves fluidly without the ball. She can score around the rim and will have to demonstrate the same proficiency from the perimeter as she matures.

TOC Dec. 08 I: Mater Dei (Santa Ana, Calif.) sophomore Alexyz Vaioletama isn't as heralded as some of the youngsters on this loaded Monarchs team but that won't last long. The 6-1 forward has top notch athleticism which allows her to run and fill the lane as a wing. Add to that a physical style of play that allows her to compete with bigger post players and you have a dynamic player regardless of what position you assign her. She is definitely a can't-miss west coast player.
Notes
Club Team: West Coast Premier. She previously played with the Irvine Sol.

Was named to U17 USA National Team but had to pull out because of injury.