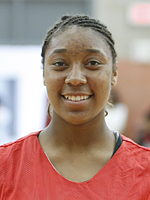 Sheila Boykin
Forward
CLASS: 2011
Signal Hill, CA

Hometown

Long Beach Polytechnic

High School
27

Overall Rank

10

Position Rank
ESPN Player Evaluations
Nike TOC-Dec. 10: Provides the interior power game that coaches on every level dream of. At the same time she's out running the lanes on the break and active from the high post or in screening situations on the perimeter. Relentless in her work on the boards, she finishes Poly's defense and triggers their transition as well as provides the second looks offensively that can break opponents. Did find herself in foul trouble at points that led to some costly bench time that didn't help their championship efforts. Well suited to reach her potential at the next level. (Lewis)

Nike Nationals-July 10: While the West Coast often has been viewed as a region whose basketball prowess lies in its finesse style of play, we would like to present to you the "inner workings" of Boykin. At 6-2, strong framed, including broad shoulders and nimble feet, Boykin is the quintessential power forward in stature. Once you add her ability to score on the block and play in transition, it becomes clear that ESPN HoopGurlz's No. 45 prospect is capable of impacting the game on any coast. Those who value the importance of interior toughness and unflappability will see Boykin as a prized possession. She was an essential ingredient in West Coast Premier's rise to the top of Pool D of the 16U Division of this year's Nike Nationals. Change is always good, and Boykin may be changing the way the West is won. (Nelson)

It's hard to imagine a player like Boykin having a coming out party when she's already well established. In Augusta she played consistently at the highest level against some of the top interior defenders. Her aggressive play was at both ends of the floor and she produced results time and again. Her confidence is almost visual and seems to add to her ability to make plays. She's finishing well and making good choices with the ball in her hands. Defensively she stayed between her match up and the rim and limited to their opportunity to only one look. Coming into her own may be an understatement. (Lewis)

End of the Trail-July 10: Boykins was a dominant force yet again at EOT. She played with high energy throughout the tournament and approached each and every possession with passion. With teammate Kacy Swain back in action, the two bigs were able to unleash their size and strength on their opponents. Boykin took the opportunity to step out a bit and make plays facing the basket. She attacked hard and showed off a nice spin back middle with a hard bounce to finish strong. She was also a force to be reckoned with on the boards, and showed a knack for getting in great position to clean up inside. (Howe)

Nike Skills-May '10: A true power forward. Think Karl Malone and you get the idea. Physically strong and explosive, she's not hesitant to use it posting up or crashing the boards. On the catch she has an impressive spin move off her defender that creates space and seals her opponent at the same time. Her attacking mentality creates looks in traffic and in the face of taller opposition. Defensively she not only plays physical, it's obvious that she enjoys it. The biggest mistake anyone could make would be looking at her as a #5 or a #3 when she can provide so much right at home as a #4.

Boo Williams-April '10: Strength and athleticism. Aggressive in looking for the ball and on the attack after the catch. Still needs to add more diversity to her offensive moves. Defensively and on the boards she has the potential to be dominant now and at the next level. Needs to continue to progress.

Nike TOC-Dec. '09: Strong and athletic forward. Posts up aggressively and looks for the ball on the block. On the catch faces up and attacks off the dribble. Relentless rebounder and physical defender. Despite posting so much at this point will be more effective as a 4 on the college level. Will need to add some threats from the high post to give her game more versatility.

Nike Skills-May '09: Intangibles are often difficult to notice in the summer melee of games and events, but in this setting Sheila Boykin's intangibles stood out. Each and every drill was approached with enthusiasm and focus by this Signal Hill, Calif., product. She consistently encouraged her fellow hooping cadets, whether they were southern California kids or from the Emerald City. Her attitude and energy is contagious. In terms of basketball skills, there is a lot to be praised as well. She has a strong frame coupled with a style that is aggressive enough to allow her to play in the paint with the taller frontcourt players. She is a fluid athlete, who will be a terrific 4 at the next level, if she works on finishing with both hands in traffic.
Notes
Club Team: West Coast Premier