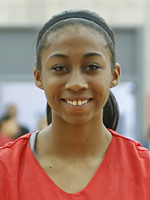 Kacy Swain
Forward
CLASS: 2011
Temecula, CA

Hometown

Great Oak

High School
25

Overall Rank

9

Position Rank
ESPN Player Evaluations
Nike Nationals-July 10: Swain has all the tools you could want in a play who swings between the forward and wing spot. The size is there as well as fluid movement away from the rim. At times the wing has looked more promising than it did in Augusta but her high post game was still sharp. She's got a sound touch out to 12 feet but could use more consistency from deeper. Her physical maturity has given her a more physical presence on both ends and made her a force on the boards. Her game is best suited and will really come into it's own on the colligate level. (Lewis)

Nike Skills-May '10: Showing more and more versatility every time out. She has both the size and athleticism to be a major force at the forward spot on any level. Her ability to create off the dribble from both the wing and the high post sets her apart from most other forwards. She can get all the way to the rim or rises up impressively on the short pull up. On her finishes, she's protecting the ball both with her body as well as utilizing a full extension of her reach. Also playing a more physical and aggressive game that will translate well to the next level.

Boo Williams-April '10: Appears stronger and physically more mature. She's taking a more assertive approach to her game and attacking with the ball in her hands. Her pull up is a legitimate weapon and the elevation gets her a good look a it. Down low she has the size and wingspan to protect the ball and finish at the rim. Her speed and mobility allow her to be an option in a four out set and in transition. She'll need to use her size and strength more effectively on the defensive end of the floor.

Cali Summer Games-July '09: Kacy Swain joined West Coast Premier after the spring weekend and as expected there is some hesitation as she learns how her skills fit in with her new team. The 6-3 wing can get her jumper off against anyone. She needs to expand her ballhandling, but at this point she only needs one dribble to get her shot off because her length and quickness leave the defense scrambling to recover. As they do, she raises up for her textbook mid-range jumper. All the tools to be a star are there; she just needs to assert herself because she is a constant mismatch at this level and will be on the next level as well.

USA U16 Trials-May '09: When Kacy Swain takes the court you expect her to plant herself in the paint and play the post. However, when the 6-3 wing from Temecula, Calif., handles the ball you see her skill set is better suited for the perimeter. She can create shots from the perimeter with ease. She actually spent a fair amount of time playing on the inside and did some nice things, but she doesn't normally play there for her club team. Confidence could be limiting her because she is capable of doing a lot on the court, if she wants to.

Deep South Classic-April 09: Ultra-intriguing prospect with great size and length and a super-smooth stroke that reminds of Tracy McGrady. She also has handles from the wings, but needs to be more productive with it -- either creating a mid-range pull or attacking the cup. For now, it's more for show and emergencies. Swain has good hands and is so long and big, she can vacuum up rebounds and, at the offensive end, convert them into buckets. If she learns to play with a little more urgency, more consistently, Swain has a shot at being one of the very best in the class.
Notes
Club Team: West Coast Premier

Second team all-state, 2010