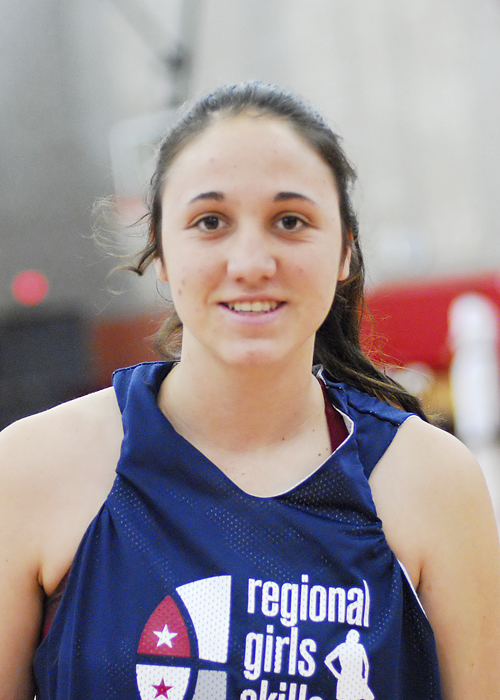 Lindsay Sherbert
Wing
CLASS: 2010
Temecula, CA

Hometown

Great Oak

High School
29

Overall Rank

6

Position Rank
ESPN Player Evaluations
Nike Nationals Championship 09: Lindsay Sherbert played with a tremendous amount of poise and confidence during the championship game. Even though she led her team in scoring and rebounding she did so many other things that helped her team to a victory. After Sherbert hit her first 3-pointer to begin the game, Boo Williams made a change defensively by having her guarded by a longer defender on the perimeter. Even though she was struggling with her shot, Sherbert never lost focus and made important adjustments like attacking the basket , drawing the defensive and finding open teammates. Most importantly she was present mentally for the entire game and, when her team needed it, she knocked down two 3-pointers that widened Swish's margin during critical points in the game.

End of the Trail 09: Blue-collar guard, Lindsay Sherbert, is a talented team player who does what it takes to win. This 6-0 power guard can run the floor, shoot the trey, lock down opponent's top scorer and crash the glass. The Temecula, Calif., native has a strong, athletic frame that complements her speed and quickness. Lindsay displays versatility that has many college coaches craving Sherbert.

Summer 08: Lindsay Sherbert, a 6-0 wing-forward for Cal Swish Black played consistent basketball throughout the River City Classic tournament and ended up adding the MVP title to her resume'. What really stands out with her is that¬hing stands out. That's a compliment in every way. Virtually every aspect of her game is solid and the combination of all that makes her a key component for any team. She's skilled, smart, agile and has the versatility to play inside and out. She's more of a true wing, but could give smaller post games a headache as a forward.
Notes
Club Team: Cal Swish Black

Selected to the 2010 WBCA All-American Team
End of the Trail MVP, 2008.

Recruiting Notes as of May 2009: Sherbert's current list includes 11 schools - Arizona State, Cal, Louisville, Kansas State, Nebraska, Oklahoma, Oregon, Stanford, Vanderbilt, Villanova, and Washington State.