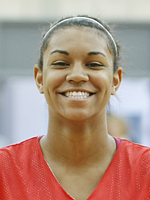 Erika Johnson
Wing
CLASS: 2011
Seattle, WA

Hometown

Holy Names Academy

High School
21

Overall Rank

3

Position Rank
ESPN Player Evaluations
Deep South Classic-April 10: She is a smooth athletic player, who is extremely versatile. She has a nice pull up jumper and she can get to the basket in 1 or 2 dribbles from the perimeter. Johnson also has the ability to post up smaller guards and showed some nice acrobatic moves getting to basket. She is extremely active on the defensive side and is creates her share of turnovers and steals because she is so quick. Johnson is the ability to be a consistent double-double player in college.

Winter-Feb. 10: In the Metro championship game Johnson lived up to her billing as the state's highest ranked junior. She is playing more physical and with an even greater passion this year. Her athleticism is still the key to her success but she's moving without the ball better, getting low post position frequently and finishing. She has a great spin move from right to left and is finishing more consistently with her left hand this year. She can get out in transition and score or dish off. She needs to continue to improve her handle to be able to break defenders down and penetrate from the perimeter with her quickness as well as extend her range to the 3-point line.

Nike Regional Skills-May 09: Erika Johnson out of Holy Names Academy in Seattle, Wash., demonstrated a lot of the characteristics that college recruiters are looking for in the next generation of wing players. At 6-0 with a long, lean, and athletic build she has the physical make up to be an imposing presence on the perimeter. Her mobility at both ends of the floor makes her effective and creates an impact in the game. She has the ability to put it on the floor and create her own looks and doesn't hesitate to slash into traffic. Like so many others, she has a forward motion to her shot that often leaves it flat. Getting it up in the air and being a consistent threat on the jumper will make her the match up that no opponent will want.
Notes
Club Team: Tree of Hope

First team all state, 2010