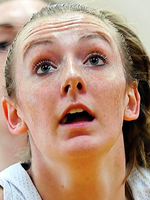 Allyson Malott
Forward
CLASS: 2011
Middletown, OH

Hometown

Madison

High School
40

Overall Rank

13

Position Rank
ESPN Player Evaluations
FIBA Americas U18 - June '10: Seeing Malott with stronger teammates, and with better structure, casts a new light on her abilities, which can be overlooked if she is expected to have to carry a team offensively. Even though she is 6-3, she truly is more of a wing prospect, as her strength is her very fluid shooting from distance. With the U.S., she could truly play that role, with schemes to get her touches and teammates to both create space for her as well as get her the ball. Malott isn't the type to create her own shot, though her ballhandling is good enough that she can take shots off bounce in the red zone if defenders close out too aggressively. Her forte, however, is spotting up and drilling threes. Two other qualities that stood out in this environment are her ability to motor in the open court and her effectiveness at the other end of the floor, when asked to produce there. Her length, combined with adequately quick feet, serves her well on defense, where she also will compete on the ball, in denial and help.

USA U17 Trials-June 10: If the international player is long, skilled and has the ability to shoot the long jumper, then Malott may be the best equipped for the European game. The 6-3 Ohio-native showed a consistent stroke from the perimeter with a nice high release that allows her to shoot over defenders who are even half a step late in closing out. She wasn't able to score a lot in the paint against the big and physical players in the lane but that's not really her game anyway. She is much better from the mid-post facing up and seeing the floor. (Hansen)

Deep South-April 10:A very long and rangy forward prospect , Malott has a very good bounce in her step. It allows her to change direction with her 6-3 frame with relative ease. She has a long release on her jump shot, not to be confused with slow or deliberate, but rather long -a strong quality for such a tall shooter. On the glass, the Cincinnati Heat Premier forward uses that same long wingspan to secure rebounds. Her size, bounce and length seems to be attributes that would lead one to think that she is a high production and quality activity type of player, but she seems to drift away from the activity and her production seems to few and far between. She guards all positions with her length and mobility. Malot is very good at creating scoring opportunities, especially from the high pick and roll.

Classic in the Country-Jan. 10: Middletown Madison forward Ally Malott has lots of size -- at least in height. The super lean 6-2 forward more than offsets her lack of bulk with impressive skills that show her to be more of a perimeter prospect down the road. She can handle the ball in transition as well as in the half court and her passing skills get the ball where it needs to go. Her form is good and she has range out to the three-point line. More impressively, she showed good instincts and reads the floor well. Lots and lots of potential will have the recruiters watching her closely.
Notes
Club Team: Cincinnati Heat

U18 USA Basketball National Team Member, 2010 ... First team all-state, 2010 ... State co-player of the year, 2010 ... First team all-state, 2009