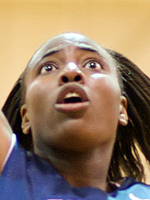 Loliya Briggs
Guard
CLASS: 2011
Jacksonville, FL

Hometown

Potters House Christian

High School
50

Overall Rank

13

Position Rank
ESPN Player Evaluations
Wildcat Classic-May %u201910: If a knee injury was still an issue for the 5-11 guard from the Jacksonville Lady Rams, you wouldn't know it. Briggs, ranked No. 46 in the 2011 class by ESPN HoopGurlz, spent the year knocking the rust off and getting back to the game that made her one of the most versatile players in the class. Her play this weekend showed the agility and explosiveness that caught everybody's eye at a young age. She can put the ball on the floor and create her own looks as well as make the smart pass on penetration. She elevates above the crowd on her pull up and has a soft, but somewhat inconsistent, touch. Defensively and on the boards she's just as impressive, demonstrating a willingness to play the physical game and leave it all on the floor. She'll need that approach at Pitt and in the Big East. (Lewis)

Nike NW Invitational-Dec. 09: Back and starting to get her conditioning and stamina back after suffering a knee injury, Briggs showed flashes of her pre-injury brilliance. The Lions reversed the ball to an isolation situation with Briggs, who put a nasty crossover on her defender leaving her several feet in the wrong direction and finishing. She is going to be special because she has good size for the position on top of her break-down ability.

Turkey Jamm-Nov. 09: Size, versatility and athleticism have been the hallmark for Briggs since she came on the radar. Coming off a knee injury the Pittsburgh early commit is knocking the rust off a little bit at a time and showing flashes of her enormous potential. She still favors the leg a bit and the conditioning isn't quite there yet but no doubt Coach Bannister will take care of that. She's going to have to really develop consistency and range in her perimeter game to give herself the complete package and force opponents to play her honest. She'll also have to sharpen up her decision making skills and take care of the ball. Inside she's as effective as any guard in the country. Lots of success and still lots of potential.

USA U16 Trials-May 09: Another Floridian making a late push for a roster spot was Gainesville-native Loliya Briggs. She was a victim of a slow start, but when she found the confidence to do what she does well it was obvious why she was invited. She has tremendous speed and is one of the best in her class at creating shots. When you talk about creating space this is a kid you should refer to. She is very shifty and has ankle-breaking potential, but didn't show touch on her pull-up shots. Making shots in a chaotic setting is important in making the team.

Nike Regional Skills Acadmey-April 09: A complete basketball player has skills that often translate into being classified as a multiple-position player. This player is often called upon to help the team win the game, especially the big ones. Loliya Briggs is such a player. She can do just about all that can be done on the perimeter offensively. She's a very effective ballhandler and distributor in the half court or in transition. She displayed the ability to score from the perimeter, whether by shooting or driving to the basket. The Jacksonville, Fla., native is a willing defender with good size at 5-foot-10 and she uses that size to score in the interior. She could very easily play all three perimeter positions.

Braggin Rights Jan. 09: Potters House Christian has two players that catch your eye right away. Watch just a little bit longer and you'll be like a lot of the college coaches noticing another guard, Loliya Briggs, as well. Standing 5-11 with a lean and very athletic build she has the physical skills to allow her to take her game a long way. This left hander can slash and get into the paint and then has the pull-up to put the points on the board. She has tremendous speed and gets out with her teammates in transition. She defends aggressively, as all the PHCA players do, and is only going to get better and better.
Notes
Club Team: