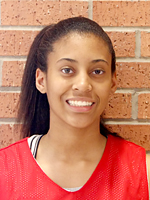 Chelsea Jennings
Guard
CLASS: 2012
Fort Worth, TX

Hometown

North Crowley

High School
45

Overall Rank

14

Position Rank
ESPN Player Evaluations
Nike Nationals-July 10: One the most athletic players in the class, her vertical leaping ability allows her to get to the basket with minimal dribbles and finsih at rim-level. Great on the ball defender. (Bodine)

Continues to be one of the more impressive guards in the junior class. Size, athleticism and versatility were on display in Augusta as well as a killer instinct on the defensive end. The perimeter shot is evolving into a short, mid and long range threat. It's hard to watch her play and not have the word maturity come to mind in regard to her play. Could really be something special. (Lewis)

Nike Summer Showcase-July. 10: All the tools are in place. Impressive size and athleticism combine with advanced skills and instincts. There's an aggressive approach at both ends of the floor and consistent results. Can penetrate and finish as well as pull up and knock it down. The ballhandling and passing are more than effective and allow her to create in transition as well as the halfcourt. Defensively she may well be near the top of the class. On ball she can lock down almost any perimeter opponent. (Lewis)

Flava Jam-July 09:Chelsea Jennings, a 5-10 guard from North Crowley High School, does a little bit of everything on the court. She has the type of athleticism that makes everything look easy. She has serious hops, with claims from her coaches that she can grab rim, and she not only skies to the basket but she finishes. She shot the 3-pointer with success but some inconsistencies in her form left her off from mid-range. With her length, quickness, and hard working nature, expect big things from her in the near future.

Spring 08: Zora Stephenson a 5-9 guard, is long and plays hard. She has quick hands but, as John Wooden advised, she's never in a hurry. She's an outstanding defender, solid close to the hoop and even banked in a three to show her versatility.
Notes
Notes are not available.