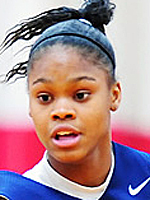 Moriah Jefferson
Point Guard
CLASS: 2012
Glenn Heights, TX

Hometown

Home School

High School
2

Overall Rank

1

Position Rank
ESPN Player Evaluations
Strengths: One-on-one skills; quickness/athleticism; competitive fire
Areas to improve: Overall strength; upper body strength; decision making
Bottom Line: Jefferson stands as the highest rated point guard in the class of 2012, but her strengths offensively are her ability to create and score the basketball. There may be an adjustment process for her at the college level if she is asked to be more of a traditional point guard and run a team as that is one of the few things she has struggled with from time to time at the prep level. She has been brilliant at times as a distributor so blending that with her ability to score is the key to her getting meaningful minutes early in her career. One thing that will always keep Jefferson on the court is her will to win and ability to compete consistently at the highest of levels.

DFW March Fest-March 11: Currently Jefferson is rated as the No. 1 point guard in the class of 2012 and her performance over the weekend did nothing to put that in jeopardy. Jefferson is one of the quickest, most explosive players the summer circuit has seen in some time. A great athlete with the ability to get anywhere on the floor that she wants, Jefferson is even more explosive in transition where she has the ability to finish through contact or make an impressive highlight pass. At this point in her development, Jefferson seems to be more naturally a scoring point-guard then a true distributor, but she does a good job of picking her spots throughout the course of a game of judging when to be aggressive and when to incorporate others in the offense. One of the most intriguing aspects of Jefferson's game is her competitive spirit and the length's that she will go to win a basketball game. She is the first player to dive on the floor for a loose ball and manages to get her hands on more lose balls then anyone in the country. Simply stated, she is one of those special players who are a joy to watch in action. (Moore)

Nike Nationals-July 10: Augusta was just one more stop where Jefferson continued to play a step quicker and on a level higher than 99% of her opponents. Her ability to create one on one may well be the best of anyone on the high school level. Each drive leads to positive results both off the pass or the finish. Her aggressive play extends to the defensive end and she has the ability to turn opposing ballhandlers time and again in the backcourt. The consistency of her play throughout the month tells you her game is for real and that she's just tapping into something special. (Lewis)

Nike Summer Showcase-July. 10: Quickness, speed, skills and an attacking mentality. Lethal with the ball in her hands and makes the players around her better. The range and touch force defenders out on her which in turn leads to her embarrassing them with how quickly she breaks them down. Jefferson's skills speak for themselves but what stands out even more is the consistency of her performance. Game in and game out she plays at a level few others can maintain. That level of play extends to the defensive end as well with a relentless on ball attack. (Lewis)

USA U16 Trials-May 09: In the running for quickest and fastest in the trials was Moriah Jefferson. That alone is impressive, but the fact she was playing on, basically, one leg was even more so. She played through a soft tissue injury in her left calf, which caused her pain when she put her weight on her toes. She still was able to muster the quickness and burst to beat some of the nation's best on-ball defenders off the dribble and got to the rim as well as anyone with two legs vying for time at the point. Where the injury really limited her was on defense as her lateral quickness was severely reduced and having a slight build she couldn't overcome the injury on the defensive side of the court.

Basketball on the Bayou 2009: This is the second event in which we've seen Moriah Jefferson since she gamely limped through the USA Basketball U16 trials with a left calf injury and we have to say a healthy Jefferson is a sight to behold. First of all, calling her fast is a complete understatement. Moreover, she is a spectacular ballhandler, who does things like inside-out moves on the dead sprint, with an expanded imagination. In one game here, she zipped into a corner for a loose ball, performed a wraparound dribble and tossed a three-quarter court pass on the money. Physically, the Glen Heights, Texas, guard is explosive with uncanny balance and cutting abilities. She does not save her energy for the offensive end, using feints and other tricks to set up ballhandlers for rips. One usually wants to approach evaluations of younger players with more restraint, but in the case of Jefferson, it's difficult not to gush and envision an extremely rosy future. (Nelson)

Midwest Showdown-May 09: DFW Elite point guard Moriah Jefferson is one of the most exciting young players to watch. She is a spectacular ballhandler who can change directions multiple times, freeze the defense, smile and then go by them. She does play with the ball a little too much, wasting dribbles when she has the ability to just beat the opposition on her initial move or counter. She has a lot of fun on the court and her teammates feed off of her energy. At 5-6 and lean, she's not the biggest guard on the court, but she still does a good job of getting into her defender's body and using that contact to neutralize the defender to get her shots in the lane up on the glass. She draws a lot of fouls and shoots the ball well. She was playing injured this weekend yet was still one of the most explosive players in the tournament.

Boo Williams-April 09: Lightening quick with the ball but plays under control, can create her own shot and make plays for teammates, tough defender with excellent lateral speed.
Notes
Club Team: DFW 2012

Invited to the USA Basketball U16 National Team Trials, 2009.

Prospect is home-schooled.