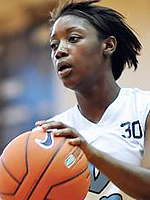 Alexis Jones
Point Guard
CLASS: 2012
Irving, TX

Hometown

MacArthur

High School
3

Overall Rank

2

Position Rank
ESPN Player Evaluations
Strengths: Elite athleticism, dynamic offensive player, on-ball defense
Areas to improve: Consistency of intensity, continue to improve range, height
Bottom Line: Jones is one of the most talented players in the Class of 2012. If she learns to play at a consistent level from start to finish she will see her name on multiple All American ballots throughout her career. For stretches she can be a impossible for opposing teams to deal with as she has true takeover ability. The inside-outside combination of she and Elizabeth Williams at Duke will be fun to watch. She can play either guard position and score as well as create for others. When she's dialed in she can be a stopper on defense as well.

PBR Super 64-July 2011: The lefty still continues to establish the fact that there may not be anyone else you would want to have the ball to create a shot on a single possession. What adds to her already well chronicled game is the apparent addition of some physical strength that she's not hesitant to put to use. In traffic she can handle the bumping and grabbing that doesn't get whistled and still deliver a good look at the rim or a well timed pass for an open look. Jones is clearly the go to player with this group but is more than willing to create and set up opportunities for her teammates both in the halfcourt or on the break. Her change of speed and change of direction with the ball in her hands could be used for an instructional video and has defenders biting time and again. Defensively she was active on ball but did tend to become ball oriented on the weakside and stand up at times losing sight of her match up. (Lewis)

Texas UIL-March 11: Jones is an ultra talented left handed point guard. Has some off guard qualities. Good w/the ball. Gifted scorer, shoots the 3/midrange/finishes at the rim. Slick handle in traffic with good court vision! Will get in the lane and rebound as well. Real talent. Wonder if she's a better scorer than PG at the next level. (Clay)

Bayou-July 10: Jones parted ways with DFW this summer, in part to play for her father, David Jones, whose Lady Cardinals team is basically the varsity from Irving MacArthur High School in Irving, Texas. As the only true superstar on this team, Jones shined alone and showed how much better she can make those around her. The 5-9 guard attacked the basket relentlessly, and created easy -- and wide open -- shots for her teammates with her penetration. She finished strong at the rim, often getting the and-one, and hit some nice pull-up 15-footers. Jones inspired and led her teammates, and played with considerable more emotion than usual. She thrived as the team leader, and her energy on defense created a lot of headaches for the opposing offenses, as she was able to step into passing lanes and get steals or deflections. After long playing second fiddle to a handful of stars with DFW, Jones showed she is more than capable of putting a team on her back and carrying them to success. (Nelson)

USA U17 Trials-June 10: While her natural position may be the point, Jones can be just as effective off the ball. Her explosive speed and quickness make the 5-9 Irving, Texas native a force at any spot on the floor. The left-hander can create with impressive individual skills and has the touch to knock down both pull ups and long range jumpers. There's both a step back and a fallaway that will give a coach gray hair but she finds a way to make them count. On penetration she demonstrated the ability to finish with contact and gets to the line on a regular basis. Jones has a shot selection that can be eye opening at times but settles down when the game is on the line. Her court vision is impressive and she adept at delivering the ball, particularly in tight quarters inside. As a defender she's focused and ultra-aggressive on ball. At times she'll take risks but has the quickness to recover and still make a play. Jones is one of the few "individual" players who still make those around her better. (Lewis)

USA U16 Trials-May 09: Alexis Jones was all over the court throughout the trials. The Texan is a 5-9 combo guard and was as close to a lock-down defender as you will find at this age. She had some fantastic battles playing the hyper-quick Jewell Loyd in a couple of scrimmages. The Irving MacArthur High School star creates a lot of offense with her dominant play on the defensive end. She can rip the ball away from the ballhandler and is great in jumping passing lanes as well. She hit some shots late in the trials, but her inconsistent ability to finish early on kept her from getting over the hump for a guard spot on the roster.

Boo Williams-April 09: For those opposing coaches looking forward to DFW T-Jack's Odyssey Sims graduating after this year, here's a pleasant thought. Her MacArthur high-school teammate is already on board and looks to have all the same potential and maybe even more. Alexis Jones has talent and athleticism like you ordered it off a room service menu. Aggressive and explosive at 5-9, she creates and gets into the paint almost at will. Just to keep you honest, she also has the range to force you to come out on her. She anticipates well defensively and has the foot speed to stay in front of almost any player on the perimeter. Recruiters need to go ahead and take a number.
Notes
Club Team: DFW Elite 2012

USA Basketball U16 Trials Invitee, 2009.