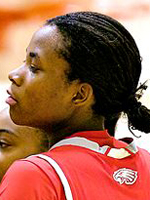 Tiffany Jones
Forward
CLASS: 2011
New York, NY

Hometown

Nazareth Regional

High School
65

Overall Rank

18

Position Rank
ESPN Player Evaluations
Braggin' Rights-Dec. 10: Seemed somewhat reserved in her play taking only the opportunities that came her way rather than looking to generate her own. She still seems caught between interior and perimeter play with the potential to contribute at either spot. Her size, agility and individual skills show flashes of top tier potential but the consistency of production and effort aren't there yet. Syracuse shouldn't be losing sleep over her play but should expect more once she gets on campus next fall. (Lewis)

Peach State-July 10: This 6-2 standout from New York, N.Y., is still in the process of defining where she might be able to contribute the most on the floor. One moment you're watching her out in transition, running the floor with the guards and slashing into the paint with an aggressive drive. The next thing you know she's slithering around in the paint using her height and elevation to give you the impression she's the forward you've been looking for. In reality she may be better suited for the wing with her length and athleticism making her a force on offense and an intimidating presence on defense. She can put it on the floor on the break and in the halfcourt and her vision and passing should keep teammates and coaches happy. The perimeter shot still has a somewhat awkward look to it that will need to be straightened out to become more dependable. On the defensive end she's already more than capable of being an impact player on the perimeter. She has the lateral speed and the size to give opposing backcourts fits and should be a dream in pressing and trapping situations. (Lewis)

Battle in the Boro-July 10: Ultra athletic forward with who's active and runs the floor. Makes plays utilizing her athleticism that are eye catching. Basketball skills are advancing but still have some rough edges to them. Scored effectively off offensive boards but didn't do much to create her own looks. Defensively she can change both shots and passes with her leaping and wingspan but often finds herself out of position. Lots of potential just on the edge of becoming reality. (Lewis)

Deep South-April 10: Jones is refining her perimeter skills and is doing so quite nicely. She had been strickly an inside play with very limited perimeter, but has worked hard on that facet of her game. She demonstrated that with her dribble-drive game which as drastically game the appearance of her game. She still needs to develop an outside jump shot and need to finish better in the paint. Also needs to get stronger-this could help the jump shot and the finishing deficiencies.

Braggin' Rights Jan. 09: Long, lean and athletic. Very agile and can attack inside and in the midrange. Has a nice stroke and gets off the ground on her jumper. Active on the defensive end with the size and build to be a dominant stopper.

Bojangles Jan. 09: St. Michael's Academy is loaded with promising young players. The best is Tiffany Jones. She is long, athletic and very agile. She shows the promise of a future All-American. Although her game is around the basket, Jones has the athletic ability to play on and defend on the perimeter. Expect big things from this future star.
Notes
Club Team: Exodus NYC