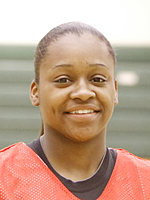 Starr Breedlove
Point Guard
CLASS: 2013
Teaneck, NJ

Hometown

Saint Michael Academy

High School
—

Overall Rank

24

Position Rank
ESPN Player Evaluations
USJN DC-July 10: Everything that's been there in the past was on display. The speed, quickness and attack kept the Gauchos up tempo game going and she seemed more willing to sacrifice her own scoring to distribute the ball. The pull up was dependable on her penetration but she did struggle finishing in among the bigs on defensive rotations. (Lewis)

Battle For The Boro-July 10: Still quick and attacking from the point. Not creating her own looks as much as in the past but distributing the ball effectively. The pull up and the jumper are there but the opportunities seem to be there less. Aggressive on ball defender and sees the floor well on the weakside. Size may be a question. (Lewis)

Nike Skills, New Jersey - May 10: A smallish, quicksilver point guard, she put on a show with her passing during scrimmages at the academy. She has good moves off the bounce, including a quick, low crossover, and consistently finishes with her left. Breedlove didn't the impatience she's exhibited in the past.

Boo Williams-April 10: Small but very quick at the point. Can create off the dribble and has started to become more effective on the pull up. Still rushes at times but forces defenses to rotate and makes things happen. Better control will be an asset at the next level.

Super Showcase ATL-Oct. 09: Starr has the ability to be an excellent point guard but needs to learn how to slow down and make better decisions with the ball. She is an excellent ball handler.

Boo Williams-April 09: Has shake-n-bake handle, attacks the defense from all angles, needs to embrace contact on penetration.
Notes
Breedlove sat out the 2012-13 season and attended ASA College at home, while working out with her father. She led Trinity Valley to the junior college national title in 2011-12. In her only season at Trinity Valley, Breedlove averaged 9.4 points, 6.3 assists and 3.5 rebounds. b>Club Team:NYC Gauchos

Second team all-state, 2010